The MAPP: Mission Arts & Performance Project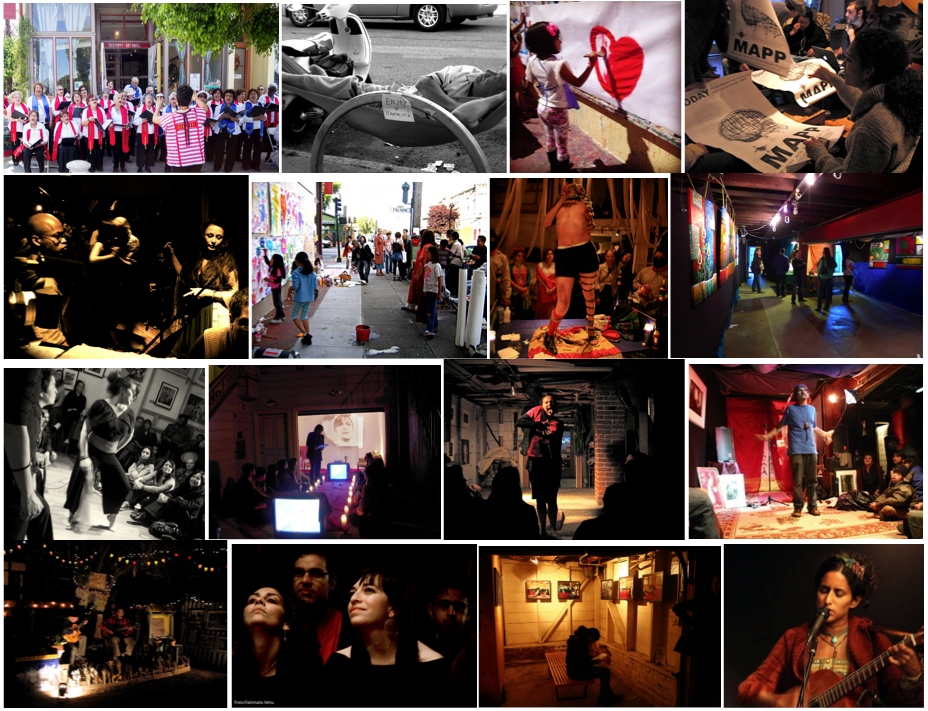 Launched in 2003, the Mission Arts & Performance Project (MAPP) is a homegrown bi-monthly, multidisciplinary, intercultural happening that takes place in the Mission District of San Francisco. On the first Saturday of every even month of the year, the MAPP transforms ordinary spaces, such as private garages, gardens, living rooms, studios, street corners, and small businesses, into pop-up performance and exhibition sites for a day/night of intimate-scale artistic and cultural exchange among a kaleidoscope of individuals and communities.
---
For the April 2nd MAPP, the Red Poppy Art House has invited theater artist/playwright Mia Paschal to curate an evening of 7 solo theater performances titled My Heart, Your Sleeve. While this program is happening inside the Poppy, we will simultaneously be launching the the second test run of the Porch Performance Festival, done in partnership with independent artists and community members. PORCH is an in-progress initiative centered around transforming the stoops of local residences into sites of story sharing (oral histories) and performance.
In her theatrical work, Mia Paschal explores different ways to connect with a theatrical audience, expanding and upending expectations and assumptions about identity and social conventions through text, the use of the theatrical space, and the relationship between performer and spectator. For this evening at the Red Poppy for the MAPP, Mia also wanted to present different facets of emotionally-charged communication, and to that end, she invited five artists who, by doing this in very personal and original ways, have expanded the way she approaches her art.
Schedule:
6:00–6:20pm: Ben Baker (solo performer, poetry)
7:00–7:02pm: Introduction to My Heart, Your Sleeve
7:02–7:12pm: Aideed Medina (spoken word poet)
7:15–7:25pm: Dulce Maria Peña (spoken word poet)
7:35–7:47pm: Stan Stone (solo performer, theater)
7:50–8:07pm: Eliza Gibson (solo performer, theater)
8:15–8:52pm: Abby Schachner (solo performer, theater)
9:05–9:20pm: Aideed Medina (spoken word poet)
9:30–10:00pm: Mia Paschal (solo performer, theater)
Learn more about the artists and performances on the event page.


Initiated by the Red Poppy Art House, PORCH is a new project in-the-making that looks specifically to the stoops ("porches") of Mission resident homes as intimate sites of encounter for artists and community members to trade stories, cultural/artistic experiences and performance. Two summer's ago we did it at the Pigeon Palace on Folsom St. This time around, our esteemed friend, colleague, and community member, Roberto Hernandez, has offered up his 'porch' for the event.
April 2nd PORCH Program @ 1333 Florida Street
Curated by Adrian Arias, Roberto Hernandez, Marguerite Muñoz, and Todd Thomas Brown
5:30-5:40pm: Todd Thomas Brown (Welcome)
5:43-5:53pm: Roberto Hernandez (Neighborhood Stories)
5:56-6:01pm: Adrian Arias (Abuela's Sopa)
6:04-6:14pm: Amelia Uzategui (El Mito de la Manta)
6:17-6:22pm: Vecino (neighborhood stories)
6:25-6:40pm: La Cura Trio (acoustic music)
6:43-6:48pm: Vecino (Neighborhood Stories)
6:51-7:06pm: La Tania with Ryan Garcia, guitar & Maria Sanchez, dancer (Storytelling/Flamenco Dance & Music)
7:09-7:19pm: Ariel Vargas (Poetry)
7:22-7:27pm: Astu (Afro-Electric Soul)
7:30-7:35pm: Vecino (Neighborhood Stories)
7:38-7:48pm: Byb Chanel Bibene (Contemporary Dance)
7:51-8:01pm: Erika Oba/Marcus Shelby/Aaron Keirbel (Flute, Bass, Percussion)
8:04-8:16pm: Stephanie Sherman (Poetry)
8:19-8:29pm: Amalia Alvarez (Poetry)
8:32-8:42pm: Daniel Riera/Camille Mai/Marcus Shelby (Jazz/Soul Music Trio)
8:45-8:50pm: Vero Majano (Poetry)
8:53-8:58pm: Vecino (Neighborhood Stories)
9:01-9:11pm: Norman Zelaya (Neighborhood Stories)
9:14-9:24pm: Aideed Medina (Spoken Word Poetry)
9:27-9:37pm: Lake Stovall, Guitarist/Vocalist & Justin Hawkins, Lead Guitar (Acoustic Soul)
9:40-9:50pm: Susana Aragon (Neighborhood Stories)
9:50-10:00pm: Closing Poems by Marguerite Muñoz
More on PORCH:
PORCH is a community arts experiment that situates itself within the bi-monthly MAPP platform to create a neighborhood festival that transpires on the front stoops of local residences, where traditional and contemporary artists perform and local residents share their stories/histories. The front stoop represents a literal threshold between the public and private spheres, and is a historic site of spontaneous community interaction and exchange. We use the word 'porch' to underscore history and continuity that is central to the festival. Before arriving to urban centers, it was traditionally the porches of smaller communities where neighbor interaction took place. This unique space now becomes increasingly significant and symbolic in neighborhoods undergoing rapid processes of gentrification that result in the breakdown of social fabric and the loss of communal/neighborhood memory.
---
More About the MAPP Program:
While the MAPP was originally conceived, and incubated, at the Red Poppy Art House (then known as Porfilio Is) and included collaborating partners from the beginning, it grew to become its own autonomous festival/happening. Today, the MAPP is organized among homes in the Mission, not coordinated nor supervised by any formal organization. This was the intention from the outset, to see the MAPP take root within our local neighborhood and be adopted by its community of artists and residents. From our tiny performance space we once wondered, how might this intimate kind of cultural experience be expanded to something larger without losing its intimacy? The answer is found in the MAPP. Attend one of the happenings and you'll discover that while there are hundreds of people in attendance, the feeling of intimacy is everywhere. The MAPP takes the impersonal nature of urban living and transforms and humanizes it onto a space of relationships and friendly exchange.
It's important to understand the original impulse out of which the MAPP grew from a group of artists, which was that we wanted to create an event for each other – to share and enjoy each other's work in an informal and organic manner. But then, also, we wanted to open the door to the public to come and be a part of it – to invite friends and grow a community. And this is the difference – to not present a performance as 'entertainment' for the public. Rather, to craft a context and experience of sharing, where the line between 'artist' and 'public' blurs. This is why, as artists, we did it for no pay (something we're normally not fond of), because we did it for each other – to create the kind of world in which we wanted to live, if only for one night every two months.
As the MAPP grew in participation, from artists of different aesthetics, different communities, and more locations, the spaces took on distinct characteristics, evolving the MAPP into a rich intersection of aesthetics and communities. From this intersectionality, we discovered that new relationships never ceased to emerge.
Organizationally, across the years, the MAPP decisively resisted formalization, choosing to remain as a volunteer-run, non-hierarchical experiment of community-engaged art happenings. Today, the MAPP has produced over 75 neighborhood-level arts festivals, involving many hundreds of artists and many thousands of attendees. It poignantly demonstrates how an array of individuals, from different cultural communities and artistic disciplines, can catalyze a multi-dimensional arts festival that does not rely on formal institutions, funding support, or commercial marketing. Most significantly, what makes it different from the art walks that are now so popular across the nation, is its activation of the private home (living rooms, garages, yards, studios) within a residential community, such that transform the private sphere into a networked quasi-public cultural commons for creative expression and discourse. It is our way of redeeming ourselves from the over-privatization and commodification of our lives and communities that so often leaves many of us feeling isolated or disconnected, and returning a felt sense of community and collective sharing to the neighborhood and city of which we are a part.
We invite you into the charm of the MAPP, which is that you never know quite what's going to happen until you get there. This innovative platform allows serendipitous connections to emerge organically across visual artists, musicians, poets, dancers, choreographers, filmmakers, playwrights, and other artists, community organizers and local residents, and that you can count on. We often don't advertise what is going to happen in far advance, because we often don't know until just a week before. With luck, however, you might find a printable program available online a couple of days before the event.
For more information or to get involved as a host venue, artist or street-level curator (and curate a space of your own!), please come out to the next MAPP meeting. For information, visit mappsf.com, contact info@redpoppyarthouse.org, or find us on Facebook.