Mission Arts & Performance Project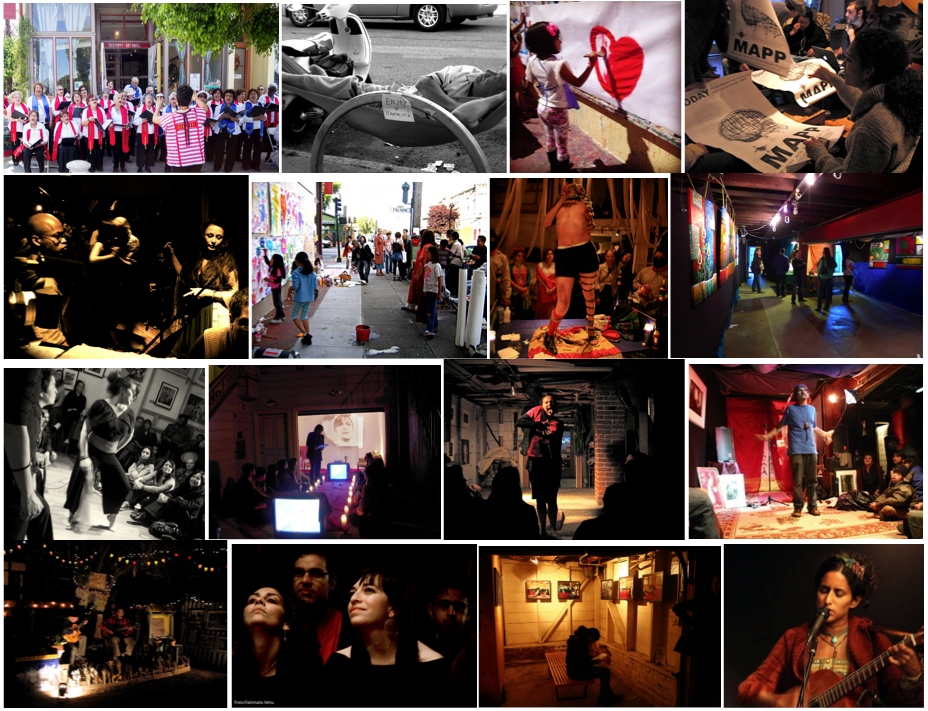 Launched in 2003, the Mission Arts & Performance Project (MAPP) is a homegrown bi-monthly, multidisciplinary, intercultural happening that takes place in the Mission District of San Francisco. On the first Saturday of every even month of the year, the MAPP transforms ordinary spaces, such as private garages, gardens, living rooms, studios, street corners, and small businesses into pop-up performance and exhibition sites for a day/night of intimate-scale artistic and cultural exchange among a kaleidoscope of individuals and communities.
PREVIOUS MAPP
RPAH SCHEDULE:
7:30-8:00 – Samaneh Salehi's The Past Collection (Doors Open + Visual Exhibition)
8:00-8:20 – Ryan Andersen (Acoustic Singer-Songwriter)
8:30-9:00 – Band Together, Creative Liberation Network (Multi-Modal Music Ensemble & Spoken Word)
ft. Zachary Seth Greer, Liyanna Sadowsky, Amani Will, Jahan Khalighi, Neeka Salmasi, Collin Miller
9:10-9:25 – WaterSaw (Haunting Evocative Music)
ft. Nicole Laby, Michael Tornatore, Mark Fassett, Mia Pixley
9:25-9:50 – The Sounds Inside Promo (Modern Dance with Music Score)
ft. WaterSaw band members, Megan Lowe, Shira Yaziv

MORE ABOUT THE PROGRAM

While the MAPP was originally conceived, and incubated, at the Red Poppy Art House (then known as Porfilio Is) and included collaborating partners from the beginning, it grew to become its own autonomous festival/happening. Today, the MAPP is organized among homes in the Mission, not coordinated nor supervised by any formal organization. This was the intention from the outset, to see the MAPP take root within our local neighborhood and be adopted by its community of artists and residents. From our tiny performance space we once wondered, how might this intimate kind of cultural experience be expanded to something larger without losing its intimacy? The answer is found in the MAPP. Attend one of the happenings, and you'll discover that while there are hundreds of people in attendance, the feeling of intimacy is everywhere. The MAPP takes the impersonal nature of urban living and transforms and humanizes it onto a space of relationships and friendly exchange.
It's important to understand the original impulse out of which the MAPP grew from a group of artists, which was that we wanted to create an event for each other – to share and enjoy each other's work in an informal and organic manner. But then, also, we wanted to open the door to the public to come and be a part of it – to invite friends and grow a community. And this is the difference – to not present a performance as 'entertainment' for the public. Rather, to craft a context and experience of sharing, where the line between 'artist' and 'public' blurs. This is why, as artists, we did it for no pay (something we're normally not fond of), because we did it for each other – to create the kind of world in which we wanted to live, if only for one night every two months.
As the MAPP grew in participation, from artists of different aesthetics, different communities, and more locations, the spaces took on distinct characteristics, evolving the MAPP into a rich intersection of aesthetics and communities. From this intersectionality, we discovered that new relationships never ceased to emerge.
Organizationally, across the years, the MAPP decisively resisted formalization, choosing to remain as a volunteer-run, non-hierarchical experiment of community-engaged art happenings. Today, the MAPP has produced over 75 neighborhood-level arts festivals, involving many hundreds of artists and many thousands of attendees. It poignantly demonstrates how an array of individuals, from different cultural communities and artistic disciplines, can catalyze a multi-dimensional arts festival that does not rely on formal institutions, funding support, or commercial marketing. Most significantly, what makes it different from the art walks that are now so popular across the nation, is its activation of the private home (living rooms, garages, yards, studios) within a residential community, such that transform the private sphere into a networked quasi-public cultural commons for creative expression and discourse. It is our way of redeeming ourselves from the over-privatization and commodification of our lives and communities that so often leaves many of us feeling isolated or disconnected and returning a felt sense of community and collective sharing to the neighborhood and city of which we are a part.
We invite you into the charm of the MAPP, which is that you never know quite what's going to happen until you get there. This innovative platform allows serendipitous connections to emerge organically across visual artists, musicians, poets, dancers, choreographers, filmmakers, playwrights, community organizers, and local residents. We often don't advertise what is going to happen in far advance, because we often don't know until just a week before. With luck, however, you might find a printable program available online a couple of days before the event.
---
To get involved as a host venue, artist, or street-level curator (and curate a space of your own!), come out to the next MAPP meeting. For more information, visit mappsf.com, contact info@redpoppyarthouse.org, or find us on Facebook.