Previously on Exhibition
ARTE by Adrian
December 2015 – February 2016
I believe in the transformation of reality; my religion is the poetry. I believe in the cells, molecules, in the hard work, in the ideas. I believe in the creative power of the community, the power generated for a group of people creating together, and also in the pleasure to work alone, facing my own demons, listening to the interior of myself.
Sometimes I have the impulse to collect everything, feeling that art is all around, but I stop, watch, collect information with my memory in my notebook, or with my camera, and continue with the next. I'm a collector of notes, and all the books with my notes are helping me to remember that I'm here not only to live every day, but to live creating something everyday.
I believe in the incredible pleasure to be in front of a masterpiece and get inspired or feel complete. Listening to music, making poetry, creating with images and sounds, embracing my friends, drawing, building book-objects… all these art forms absorb my time, constructing this sense that I really love and admire, the unique sense of life that is complete and essential: The absurd.
And when I say absurd, I didn't say that it makes no sense; I say that it has a specific meaning, a unique path, a place that makes me feel good about myself and that probably helps others to contact themselves.
I believe in projects, each one is a personal struggle to shed the dress that covers us, to be naked in front of the new dress we create with our own actions, our own hands, our own desires.
– Adrián
About Adrian: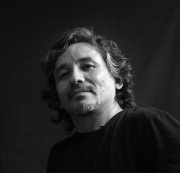 Based in the San Francisco Bay Area since 2000, Adrian Arias is an American-Peruvian prize-winning poet, visual artist, curator and cultural promoter. His visual art, like his poetry, explores the absurd, the sensuality of elements, and the connection between reality and dreams. Arias has participated in international exhibitions, showing his video-installations and visual poetry objects and drawings in Japan, France, Spain, Italy, Poland, Canada, Chile, Argentina, Brazil, Dominican Republic, Peru, and the US.

Prizes in Visual Arts:
2010 – Beautiful Trash (visual installation), selected for Artist Residency at de Young Museum, San Francisco, CA
2009 – Frida in the Mirror (video), selected at 52nd SF International Film Festival and winner for Best of the Festival at Berkeley Film & Video Festival
2008 – Mi pelicula empieza… (video), selected at International Art Festival BAC in Barcelona, Spain
2006 – Selected for Video Art Prize Ingenio 400, Madrid, Spain
2001 – Curiosity (object), selected for Bunker of Visual-Poetry, Venice Biennial, Italy
1997 – Strange Object (video installation) selected at International Biennial, Peru
1995 – Golden Medal at 55th International Salon of Photography, Japan
1993 – Golden Medal at 53rd International Salon of Photography, Japan

List of Exhibition Pieces:
 Wall 1 (3 pieces, left to right)
Lady of the Fish, mixed media on Arches 300grs, 2013-2015
Yellow is the Color of Sadness, mixed media on Arches 300grs, 2013-2015
Helen Playing Cello for 77 Minutes, live work in collaboration with Helen Newby on the cello, mixed media on Arches 300grs, 2015
Wall 2 (6 pieces, left to right)
Madre, mixed media on Arches 300grs, 2015
Current (a dream), mixed media on Arches 300grs, 2015
Self-portrait, mixed media on Arches 300grs, 2015
Angel with Red Hair, mixed media on Arches 300grs, 2015
Angel in Blue, mixed media on Arches 300grs, 2015
Head (cabeza), live drawing at the concert of Locura @ The Independent, mixed media on Arches 300grs, 2014
For pricing, please contact Adrian at adrian.arias@gmail.com.
---
About Exhibitions at the Red Poppy:
The Red Poppy Art House has featured installations and/or rotations of work by numerous Bay Area artists including Paz de la Calzada, Alberto Toscano, Fernando Diaz, Yolanda Lopez, Adriana Camarena, Indira Urrutia, Todd Thomas Brown, Adrian Arias, Ytaelena Lopez, Calixto Robles, Mona Caron, Dustin Fosnot, Claudio Nalerio, Sebastian Alvarez, and more.
As a predominantly multidisciplinary performance space, the Art House does not usually host formal exhibitions. Rather, we present works throughout the year via informal rotations of works for sale, as well as socially engaged large-scale installations pieces. To find out what is currently on display, please contact info@redpoppyarthouse.org, or come by for one of our performances.