June 27 – August 21, 2017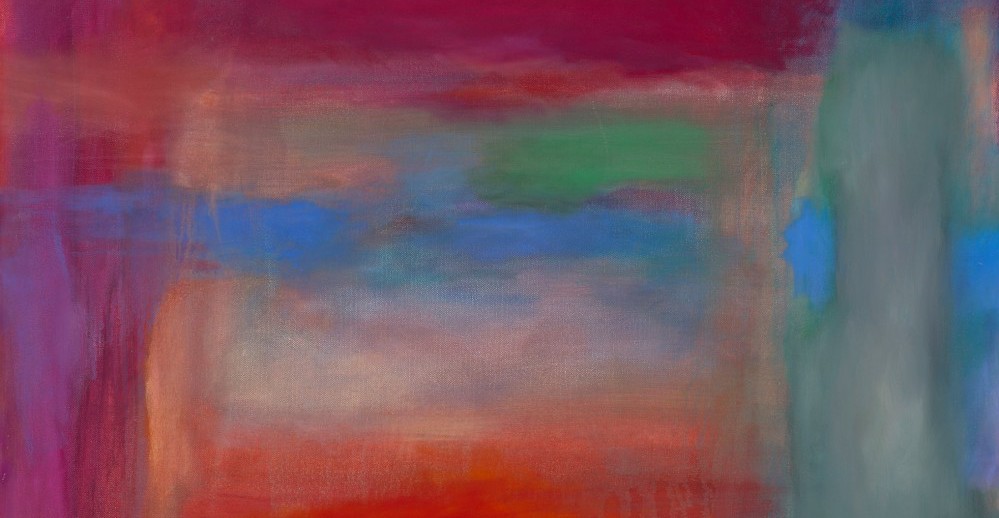 Red Poppy Art House Exhibitions Presents: Renewal
Curated by Zena Carlota & Elena Mencarelli
Renewal
presents Mimi Herrera-Pease's work expressly realized for the Red Poppy Art House. The artist and the curators worked together to create an exhibition that is also an opportunity for dialogue between music, the Red Poppy's soul, and painting, Pease's artistic tool. Within a reality of categorizations and divisions, this exhibition proves that the only real boundaries are the ones that we create in our minds.
Improvisation, abstraction, and action guided the Red Poppy's third exhibition of 2017, and they are also the three key components of a unique and spontaneous creative process. Action is the tool that actualizes abstraction, from which come our ideas; it is the gesture that makes our passage through history true, determining the difference between being and existing. It is what makes us coherent. We all are here and now. At this point we just have to improvise.
"Abstract art and music should be enjoyed in the same way." — Jackson Pollock
Renewal is a creative act as natural as rhythm. Hope is the spark that ignites change. After a cold, wet winter's slow, steady beat of disappointment and loss, Mimi Herrera-Pease picks up the tempo with spring and summer shades on canvas at the Red Poppy Art House, showing a vision of renewal and hope. How? Through a powerful, colorful, and boldly expressive language. Recalling the words of Franz Kline, Herrera-Pease doesn't paint the things she sees, but the feelings they arouse in her.
Strongly influenced by the Abstract Expressionist movement of the late 1940s through the 1960s, Herrera-Pease's artistic technique is based on broad gestures and improvisation. The blending and flow of paint plays its own, independent role as Herrera-Pease takes the lead with brush, rag, or hand. She moves paint on canvas following the rhythm of different sounds; the dynamic brush strokes show sincere gestures and the artist's sense of being present here and now. In this, we recognize the link between painting and music—an important ingredient of her artistic process and an essential component of the Red Poppy Art House, which has hosted over 150 concerts a year since 2003.
Jackson Pollock's words suggest an interpretation of this exhibition. Like all spaces that are molded by the objects they contain, the events that happen between their walls, and the people who pass through their doors, the Red Poppy is a nest for developing acts of renewal and for the flowering of images of hope. It is a place energized by cross-pollination of the arts.
MEET THE ARTIST
ARTIST BIOGRAPHY
Mimi Herrera-Pease
is a San Francisco-based painter who was born in Mexico City. Her mother, an American artist, and her father, an engineer from Veracruz, Mexico, exposed their daughter to Mexican art and culture. Frequent visits to museums and galleries in Mexico and Los Angeles, where she grew up, shaped her desire to become an artist.
Under the tutelage of the late Carlos Villa, a Guggenheim Fellow, Herrera-Pease learned technique and self-expression through oil painting at the San Francisco Art Institute. Reinforced by art history classes at SFAI, she discovered the prominence and history of abstract art, which validated her passion to pursue it as a primary focus. The immediacy of action painting and abstract expressionism became her vocation. Years later, she learned of powerful women artists—such as Sonia Gechtoff, Deborah Remington, and Jay DeFeo—who had walked the same halls at SFAI. Influenced by the New York School of Abstract Expressionism, Bay Area Figurative, and Neo-Expressionist movements, she honed her skills as an abstract painter.
After graduating from SFAI, Herrera-Pease began working as a union scenic artist in San Francisco (IATSE Local 16). She worked at American Conservatory Theater (ACT) and in film, television, and commercials for 12 years. She married, had three children, and began a business in architectural color consulting before returning to her passion, oil on canvas.
"The immediacy of painting allows me to expose my inner self through abstract art," says Herrera-Pease. "There is no point of reference, which I find challenging and exciting."
ARTIST STATEMENT
Renewal, my show at the Red Poppy, reflects a sense of renewal after a dark and fearful winter. As the seasons change to spring and summer, joyful and hopeful feelings spread their colors on canvas. With the studio door open, the breeze blowing through, and the music turned up a few notches, it's easy to evoke the mood of my garden in full bloom, the restless sea, and hope for the future. While making art, I like to listen to reggae, hip-hop, early rap, techno, urban, funk, and pop. For me, there is a link between art and music. My paintings are physical. I move the paint and my body as I work to the beat.
MEET THE CURATORS

Elena Mencarelli moved to San Francisco after concluding her Master Degree in Visual Arts at the University of Bologna, Italy. Previously, she was the artistic director of the Make Your Mark Art Gallery in Melbourne, Australia. In addition to her artistic practice and curatorial background, she is also engaged in art criticism. Elena is the co-writer of the catalogue of the double exhibition Maria Rebecca Ballestra – Alan Sonfist, a better landscape (Unimedia Modern Contemporary Art, Genova, Italy) and is the author of Maria Rebecca Ballestra, a phenomenology of posthumanism, soon to be published in both Italian and English.
Zena Carlota is a multi-instrumentalist, singer, and visual artist based in the Bay Area. Her traditional background in kora and West African harp has inspired her to combine her love of classical West African string music with Appalachian folk, Delta blues, and soul to create narratives of memory and migration in the African Diaspora. An accomplished visual artist, Zena finds it a natural progression to apply in her own art the same themes of ritual and tradition found in West African music. As a fifth generation Bay Area resident, she values the notion of longevity and sustainability in community and sees the role of the Red Poppy as a vehicle for creativity and support for artists.

GALLERY