May 18 – September 3, 2016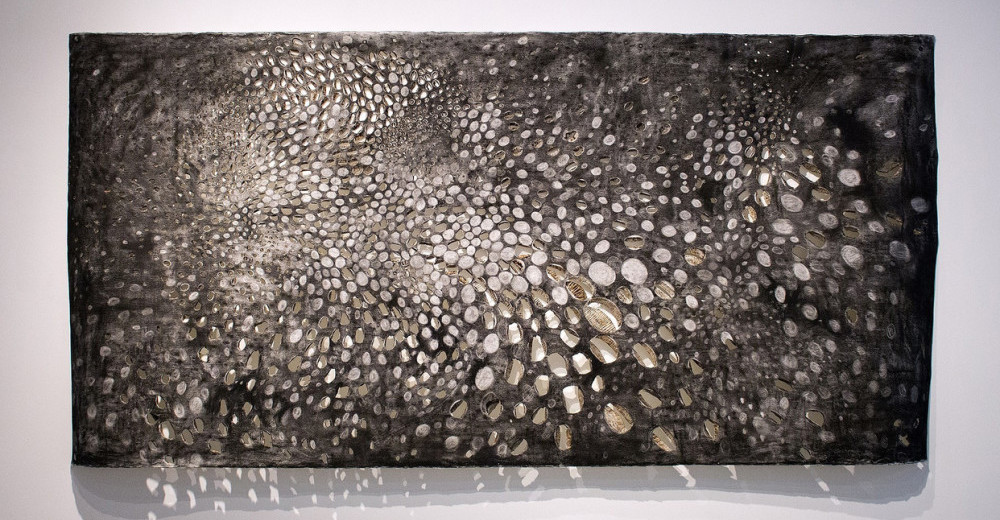 Surface: Rodney Ewing & Joyce Nojima
Curated by Modesto Covarrubias & Monica Lundy

This exhibit brings together works on paper by two Bay Area artists, Rodney Ewing and Joyce Nojima. Both artists approach mark-making on paper employing wildly different methods, though each artist's work reflects an intrigue with the build up or destruction of notation. Ewing and Nojima have created work offering a transmutation of tactile and visual experience across the surface of the paper. This pairing allows for exploration of the various ways in which this familiar material is treated and how the marks made upon the surface may evoke diverse readings and interpretations.

Rodney Ewing's diptych, titled 0-36 Seconds, is part of his series Days and Occasions that helped inform a part of the programming during his tenure as Artist-in-Residence at the deYoung Museum in March 2015. Words, phrases and numerals are meticulously applied in graphite using stencils. Through these marks, Ewing questions the constructs of time, memory and history as singularly detached from each other, all while layering them across the surface as though concurrent moments.

Joyce Nojima implements the use of both additive and reductive mark-making in each of her untitled works. The paper is occasionally treated with graphite or charcoal, two media associated with drawing. A soldering iron is applied to each work creating mixed, seemingly random patterns of burnt scars across the paper surface. These variations evoke different notions of either the destruction of information or the gathering of mark-making, appearing like murmurations or swarms.

The curators, Modesto Covarrubias and Monica Lundy, present these works in the performance space of Red Poppy Art House with an aim to spark a dialogue between music, voice, movement, and the act of seeing. With an interest in how to interact and live with art, the curators seek out work that enlivens and engages the space in which it exists. Covarrubias and Lundy view their exhibitions in the parlor/performance space of the Red Poppy Art House as an opportunity for visual art and performing arts to come together; to feed off of and nourish each other, to inform each other, and to challenge each other in order to create an experience that is greater than the sum of the individual parts.
MEET THE ARTIST: RODNEY EWING
ARTIST BIOGRAPHY
Rodney Ewing
is a San Francisco-based artist. He received his BFA at Louisiana State University in Baton Rouge and his MFA at West Virginia University. His drawings, installations and mixed media works focus on intersecting body and place, memory and fact, in order to re-examine human histories, cultural conditions and events. His work has been included in numerous group and solo exhibitions, including the University of San Francisco, Pro Arts Gallery, Root Division, de Saisset Museum, Frey Norris Gallery, The African American Art and Cultural Complex, San Francisco Public Library Main Branch, The Drawing Center in New York City, Los Angeles Contemporary Exhibitions, Johnsonese Gallery in Chicago, and Greymatter Gallery in Milwaukee. Rodney was the March 2015 Artist-in-Residence at the de Young Museum in San Francisco.
ARTIST STATEMENT
While debating demanding topics such as race, religion, or war, it is simple enough to become polarized, and see situations in either black or white, right or wrong. These tactics may satisfy individuals whose position depends on employing policies or implementing strategies that promote specific agendas for a specific constituency. But as an artist, it is more important to create a platform that moves us past alliances, and begins a dialogue that informs, questions, and in some cases even satires our divisive issues. Without this type of introspection, we are in danger of having apathy rule our senses. We can easily succumb to a national mob mentality, and ignore individual accounts and memories. With my work I am creating an intersection where body and place, memory and fact are merged to re-examine human interactions and cultural conditions to create a narrative that requires us to be present and profound.
MEET THE ARTIST: JOYCE NOJIMA
ARTIST BIOGRAPHY
Joyce Nojima
is a second-generation Japanese American born and raised in Santa Rosa, California. She received her B.A. in Art Practice from University of California, Berkeley in 2003 and earned her MFA at University of California, Davis in 2014. She is currently in the Affiliate Artist Program at the
Headlands Center for the Arts
.
ARTIST STATEMENT
With my hands, I grip my material and pull it apart. Puncturing, disfiguring, welding, and drawing with a heated iron rod. Tentative gestures are interrupted by thick yet translucent scars. These marks echo the dichotomy between rhythm and atonality, thoughtfulness and impetuousness. The more I manipulate the material, the more volume is revealed. I search for beauty in destruction and become lost in the surface I create.
MEET THE CURATORS: MODESTO COVARRUBIAS & MONICA LUNDY

Modesto Covarrubias and Monica Lundy collaborate on several curatorial projects, including Studio 5,4 Salon, an event that brings together arts professionals for an evening of lively discourse. They are the San Francisco Bay Area curators of visual arts for Flying Under the Radar Biennial Festival of the Arts, an interdisciplinary lab/festival that facilitates collaborative work between artists of the San Francisco Bay Area and Rio de Janeiro, Brazil. Both Covarrubias and Lundy maintain their own studio practice, among other projects. Modesto Covarrubias has a BFA in Photography from the San Francisco Art Institute, an MFA in Studio Art from Mills College, and teaches at California College of the Arts. Monica Lundy has a BFA in Sculpture from the School of the Art Institute of Chicago, an MFA in Painting from Mills College, and is represented by Nancy Toomey Fine Art in San Francisco.

GALLERY