FRESH Exchanges: Social Practice/Potluck ft. Kathleen Hermesdorf, Stephanie Maher, Keith Hennessy, Abby Crain & Sara Shelton Mann
January 18, 2017 @ 7:30 pm

-

9:00 pm

|

By Donation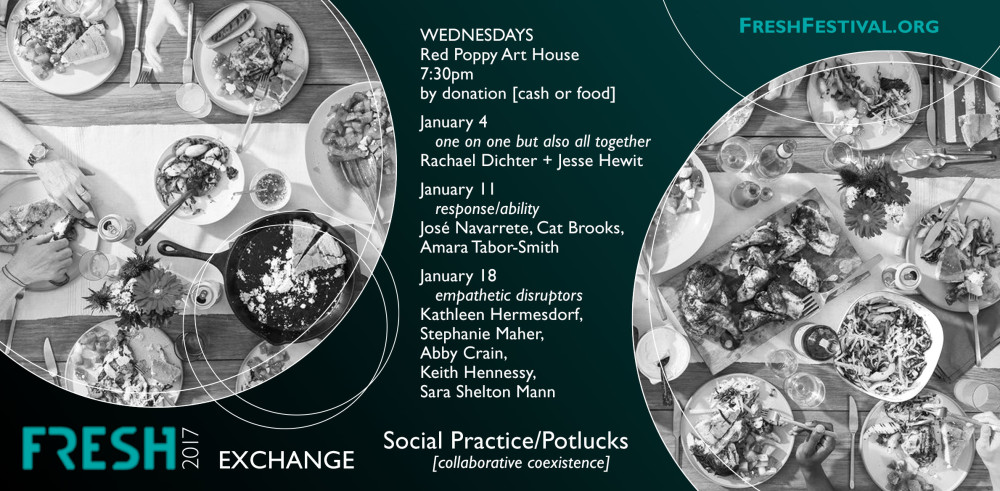 In collaboration with FRESH Festival 2017, the Red Poppy Art House is pleased to present FRESH Exchanges, free and by-donation events made to cultivate, cross-pollinate, invigorate, create access, and generate outreach within and outwith the dance, music, and performance communities. These interactive exchanges include Social Practice/Potlucks on Wednesdays, January 4, 11, 18. FRESH Social Practice/Potlucks are collaborative meals and interactivities co-hosted by artists notorious for generating situations of connectivity, improvisation, inclusivity, and direct action.
On January 18th, artists Kathleen Hermesdorf, Stephanie Maher, Keith Hennessy, Abby Crain, and Sara Shelton Mann co-host an evening about sharing food, experience, embodiment, improvisation, and agency – empathetic disruptors.

ABOUT THE ARTISTS:
Kathleen Hermesdorf is an international dance artist, educator, producer, and the director of ALTERNATIVA in San Francisco. She has been dancing in the Bay Area since 1991 and teaches, performs, improvises, creates, curates, and mentors around the world. A collaborator at heart, she co-directed Hermesdorf & Wells Dance Company with Scott Wells and Collusion with Stephanie Maher, with whom she has co-directed PORCH summerschool at Ponderosa in Germany since 2010. Hermesdorf brings over 20 years of experience from the field, studio, and stage to her work and holds a BFA and an MFA in Dance Performance + Pedagogy.
Stephanie Maher is known for her breathtaking physicality and for creating works that express a unique blend of intimacy, sensitivity, and wild humor. Improvisationally structuring and unknowingly creating a life of curating dance between the urban environment and nature, Maher's focus has deepened towards the small networkings of the international dance scene, creating avenues of support for self-realized and non-profit organizations. This includes the facets of liminal, spontaneous, curious and outspoken performance installations that occur within the permissible space of Ponderosa work and art made at home.
Keith Hennessy dances in and around performance. Born in Sudbury, Ontario, he currently lives in San Francisco and tours internationally. His performances engage improvisation, ritual, and public action as tools for investigating political realities. Practices inspired by anarchism, critical whiteness, punk, and queer-feminism motivate and mobilize Hennessy's teaching, writing, and dancing. He started practicing contact improvisation in 1979, the same year that he discovered body-based performance art. Hennessy directs Circo Zero and was a member of Contraband with Sara Shelton Mann from 1985-1994.
Abby Crain is an Oakland-based artist who makes dances and other structures for performance. She also works in the field as a teacher, performer, writer, and curator. Her curatorial projects include the NO THANK YOU SHOW, which asked artists to represent or stage work that has been rejected by granting organizations, theaters, collaborators, or the artist herself; the NON MAJOR SHOW, which asked artists to show work not in their primary medium; as well as being on the curatorial panel of FRESH Festival.
Sara Shelton Mann has been a choreographer, performer, and teacher since 1967. In 1979, she moved to SFCA and started the Company Contraband as a performance group and research ground, combining the principles of contact, systems of the body, and spiritual practice into a unified system of research. Her Movement Alchemy training is an ongoing teaching project and is influenced by certifications and studies in the metaphysical and healing traditions. Sara's performance work is a platform for collaboration and research in consciousness.

ABOUT FRESH FESTIVAL:
FRESH Festival 2017, the 8th annual Festival of Experimental Dance + Performance in San Francisco, celebrates and showcases the abundance of embodied art, action, innovation, and inclusion in the Bay Area from January 2-22, with three immersive weeks with intensive practices, cutting-edge performances, and interactive exchanges. Produced by ALTERNATIVA, FRESH 2017 is curated by Kathleen Hermesdorf, Abby Crain, and José Navarrete, and hosted by Joe Goode Annex, Red Poppy Art House, F8 Nightclub in San Francisco, and CTRL+SHFT in Oakland.
To view the full schedule of FRESH Exchanges at the Red Poppy Art House, click here.
EVENT DETAILS

Time: Doors 7:00PM / Event 7:30PM
Admission: Free; by donation