FRESH Exchanges: Alternative Conservatory ft. Brontez Purnell
January 5, 2017 @ 7:30 pm

-

9:30 pm

|

By Donation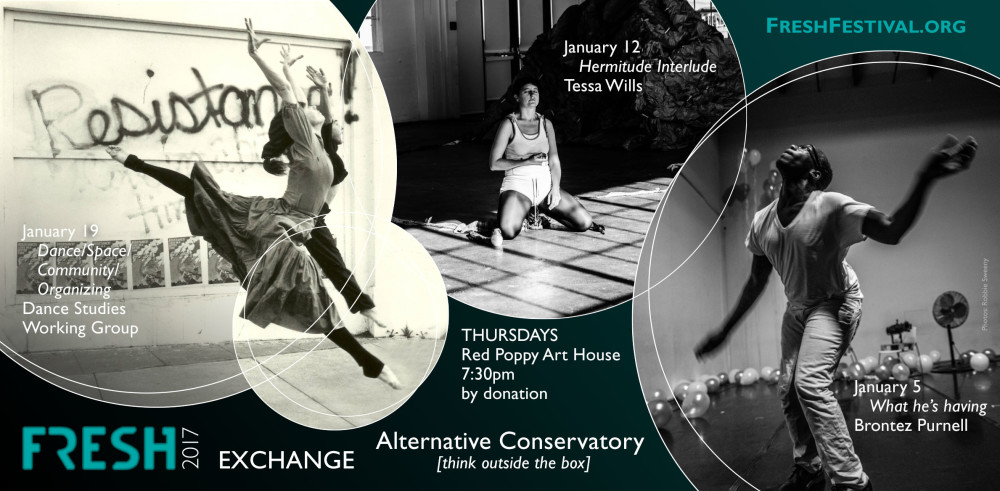 In collaboration with FRESH Festival 2017, the Red Poppy Art House is pleased to present FRESH Exchanges, free and by-donation events made to cultivate, cross-pollinate, invigorate, create access, and generate outreach within and outwith the dance, music, and performance communities. These interactive exchanges include Alternative Conservatory on Thursdays, January 5, 12, 19. Hosted by FRESH artists notorious for disarming paradigms and thinking outside the box, Alternative Conservatory is a time to unwind, connect, absorb, consider, listen, and discuss. On January 5th, Brontez Purnell presents What he's having.
There's something about Brontez Purnell. Whatever he's into or up to, you want to get a taste, a fix, a gander. With his chilled-out-manic-inviting-provoking-matter-of-fact manner, he shares his disruptive skills and offers vicarious thrills as he hosts us, serving up ​his current fascinations in art, culture, dance, music, writing, etc. in the context of FRESH 2017.

ABOUT THE ARTIST:
Brontez Purnell is a writer, musician, dancer, and choreographer. Since founding the Brontez Purnell Dance Company (BPDC) in 2010, Purnell has presented original dance and movement theatre works at the Berkeley Art Museum, CounterPULSE, the Garage, KUNST-STOFF arts, the LAB, SOMArts, YBCA, and the Wattis Institute for Contemporary Arts. He is the recipient of the 2015 Creative Work Fund Media Arts Grant to create an experimental documentary on the postmodern Bay Area choreographer Ed Mock. Brontez holds a BFA in Theatre + Contemporary Dance from California State University/East Bay.

ABOUT FRESH FESTIVAL:
FRESH Festival 2017, the 8th annual Festival of Experimental Dance + Performance in San Francisco, celebrates and showcases the abundance of embodied art, action, innovation, and inclusion in the Bay Area from January 2-22, with three immersive weeks with intensive practices, cutting-edge performances, and interactive exchanges. Produced by ALTERNATIVA, FRESH 2017 is curated by Kathleen Hermesdorf, Abby Crain, and José Navarrete, and hosted by Joe Goode Annex, Red Poppy Art House, F8 Nightclub in San Francisco, and CTRL+SHFT in Oakland.
To view the full schedule of FRESH Exchanges at the Red Poppy Art House, click here.
EVENT DETAILS

Time: Doors 7:00PM / Event 7:30PM
Admission: Free; by donation