Weddings, Cocktail Parties, Company Retreats, and More


Host your event in a magical space and support the San Francisco arts community in the process!
Consider hosting your wedding reception, rehearsal dinner, cocktail party, or company event in one of the most intimately crafted creative spaces in the city.
Nestled in San Francisco's Mission District at the corner of 23rd and Folsom, the Red Poppy Art House carries a charm likened to an old world cafe crossed with a painter's studio and living room. In addition, it is equipped with a small kitchen, quality sound equipment for live performance, a French-made Pleyel upright piano, natural light, and cozy nooks. Imagine your guests surrounded by the works of local artists within an environment that helps time slow down. There's a reason it has often been referred to as a "gem" of the Mission.
Let us provide the music…
If you are needing live music for your event, we can make the arrangements for an additional fee.
The Poppy's artistic network is vast, with ongoing relationships with musicians whose disciplines span traditional jazz standards, opera and Western classical repertoire, Eastern European/Balkan, Latin salsa and cumbia, and more.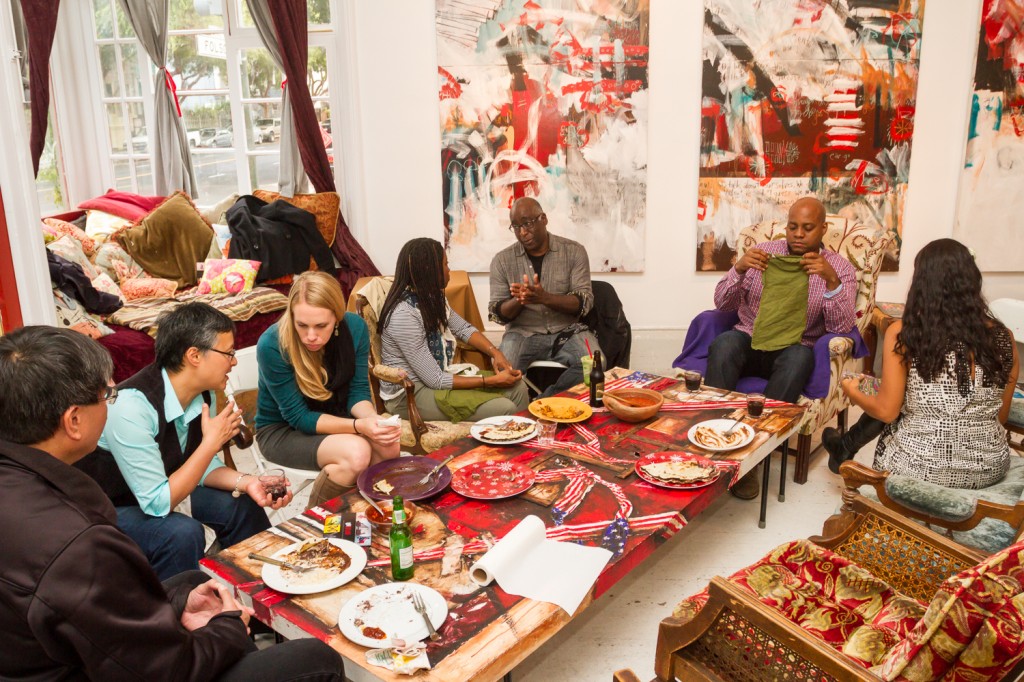 A Win/Win Situation
The Poppy has affordable prices, and 100% of the funds go directly to support our performance programming, participating artists, and community arts practices. In this way, your rental serves to invest in local culture while you celebrate a special moment among friends and family.
DETAILS & CONTACT

Renting the Poppy:
As a multidisciplinary arts space, the Red Poppy Art House holds performances two to three nights per week, typically ranging between Thursday-Sunday. We recommend checking out our Events Calendar for determining potentially available dates and times.
The Poppy is a homey, 650-square-foot space and can seat up to 49 people.
Out of respect for our neighbors above, we must close any rental by 10:00PM.
Rental rates vary based on the kind of event and the day of the week.
Reduced rates are available for non-profit organizations.
Amenities:
Reconfigurable space to suit your needs
Cozy window nooks and an eclectic mix of love seats, armchairs, stools, and folding chairs
Professional sound system and sound board
French-made Pleyel upright piano
Performance lighting
Wi-Fi
Kitchen and restroom
Wheelchair accessible
Central location in the heart of San Francisco's Mission District with close proximity to BART and MUNI lines
Street parking
Knowledgeable and friendly support staff
For further information and inquiries, please contact rentals@redpoppyarthouse.org.
GALLERY
Click here
 to view venue plans and space dimensions (Walk-through by Nathan Majeski, 2011).