Every Saturday afternoon, 1-3:30pm!
The Family Art Program engages the Red Poppy Art House's surrounding neighborhood, contributing to its vibrancy by offering free programming to the public every Saturday from 1:00-3:30pm. An outdoor open forum, Family Art uses the exterior south wall of the Poppy and its wide adjacent sidewalk, where volunteers bring out an array of art supplies and organize a different activity for participants each week.
During these afternoon sessions, parents and children can explore their creative impulses within a broader framework of social and diversity awareness. Family Art is designed as a way to engage not only participating families but those passing by our residential intersection. The program most often includes (but is not limited to) children and youth ages 4-17 as well as adults 18+ living in the Mission District. Please come join us!
Family Art is supported by the Sam Mazza Foundation and Art4Moore.
MISSION & VISION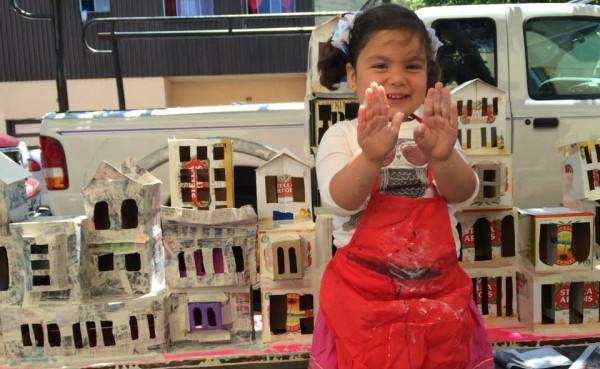 Family Art aspires to bring the community's children,
families, and youth together to partake in artistic
endeavors and share the transformative power of art.
The project encourages creative and educational experiences in an open, outdoor forum in the Mission while promoting empowerment, transformation, and greater dialogue among community members. Family Art also offers a youth leadership/mentoring program, empowering new art leaders to replicate community arts projects in other environments.
MEET THE INSTRUCTORS
Sofia Elias
, Family Art Coordinator at the Red Poppy Art House, studied Psychology at SFSU and has independently pursued the arts by working as both a curator and participating artist within various art spaces in San Francisco. With the notion that art is present in all occasions of social change, she believes art liberates people to express their emotions and ideas in any possible way that is imagined. Through this powerful creative tool, she looks to inspire children to create and become creators of their own realities. Sofia is a bilingual radical musician, ready to share art with all of the community!
Bianca Catalan is a playwright, actress, and educator born and raised in San Francisco. Her work primarily addresses topics of social justice and equality through interactive, experimental approaches to theater. Highly influenced by Augusto Boal's Theatre of the Oppressed, she aims to make plays by and for marginalized communities. As an actress, Bianca has performed with Brava! for Women in the Arts, San Francisco Youth Theatre, Community Music Center, The City College of New York, San Francisco University High School, and the Marsh Youth Theater. She recently finished a production of Hamlet as Claudius/Ghost at the Red Poppy Art House and Hayes Valley Artworks.
GALLERY