The Wee Trio + Dirty Snacks
December 7, 2012 @ 7:30 pm

-

10:00 pm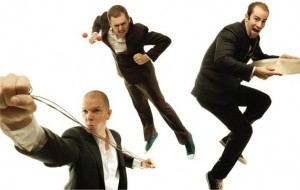 While rooted in jazz The Wee Trio finds ways to break boundaries encompassing their other roots in rock and fusion. Each member is a leader in their own right, but together as The Wee Trio, Westfall, Loomis and Schonig represent one of the highly creative groups pushing jazz and improvised music in exciting and innovative new directions. They now offer their latest creative tour-de-force, Ashes To Ashes – A David Bowie Intraspective.
James Westfall – Vibraphone
Jared Schonig – Drums
Dan Loomis – Bass
"The Wee Trio's third album, 'Ashes to Ashes: A David Bowie Intraspective' (Bionic Records), will simply knock you out. It's rare when an experimental jazz record makes one smile this much." – The San Antonio Express News
Wee Trio on Facebook
Check out the Wee Trio Channel on YouTube
Dirty Snacks New Music: Beast Coast meets Best Coast
The Dirty Snacks Ensemble is led by vibraphonist and composer Mark Clifford. He first put the group together for a concert of original music in collaboration with Sam Stone's dance company. The group has since evolved,  performing original music that resides in the cracks of modern music.
Mark Clifford – Vibraphone, vocals, guitar, composition
Christian Carpenter – Bass, vocals
Elise Cumberland – Vocals, melodica
Aram Shelton – Clarinet
Shaun Lowecki – Drums
Bob Ladue – Guitar, keyboard
$10-$15 Admission. Doors at 7:30 pm. Show at 8:00 pm.