The Project: Stringed Instruments from Around the World
January 6 @ 7:30 pm

-

10:00 pm

|

$20 - $25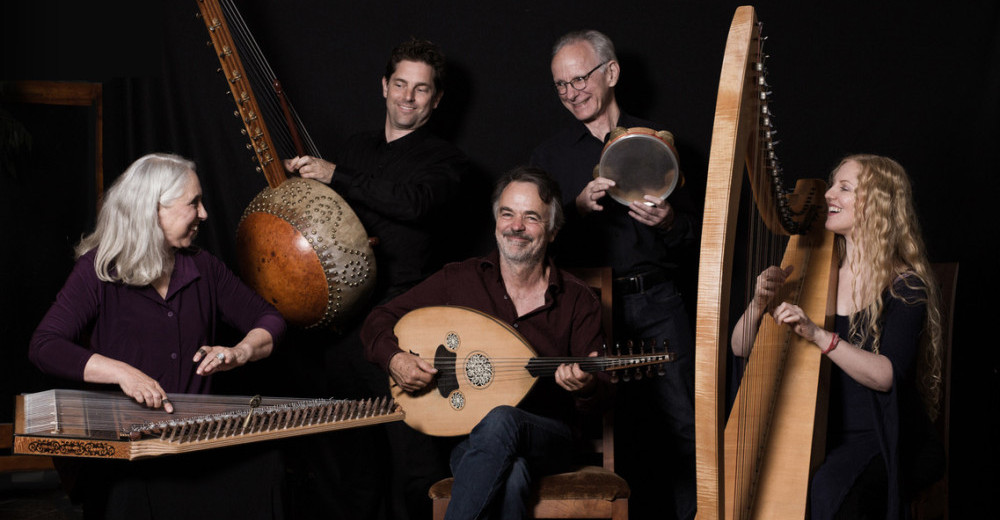 The Project explores Arabic, Turkish, Armenian, Eastern European, Celtic, Medieval, and West African music through original compositions and unexpected instrumentation, including tarhu duets.

FEATURING:
Daniel Berkman – kora, percussion
Gary Haggerty – oud, tarhu
Peter Maund – percussion
Sarah Michael – kanun, tarhu
Diana Rowan – harps

ABOUT THE ARTISTS:
Daniel Berkman is a San Francisco-based composer, multi-instrumentalist, accompanist, singer-songwriter, and electronic musician. He specializes in the gravikord and kora—a 21-stringed West African harp—on which he has produced four acclaimed musical releases: Heartstrings (1996), Feverdreams (1998), Calabashmoon (2005), and Headlands (2015). Daniel has composed many scores for dance since 1998 and has worked with Bay Area companies and choreographers such as Sara Shelton Mann, Lizz Roman, Cheryl Chaddick, Kunst-Stoff, Dandelion Dance Company, Heidi Schweiker, Dexandro Montalvo, Janice Garrett and Dancers, ODC/Dance, Robert Dekkers and Post:Ballet, Contra Costa Ballet, Diablo Ballet, Dance Theatre San Francisco, and many others.
Gary Haggerty is an accomplished performer and composer who specializes in oud, saz, violin, and a wide range of stringed instruments from Greece and Turkey. Beginning his musical career playing the fiddle and mandolin, Gary has since performed and trained in the traditional music styles of Ireland, Scotland, France, Turkey, North Africa, and the Middle East for over 20 years. For many years, he toured with the Mevlevi Order of America, and he continues to participate in Turkish ceremonial gatherings around the country.
A native of San Francisco, Peter Maund studied percussion at the San Francisco Conservatory of Music and music, folklore, and ethnomusicology at the University of California, Berkeley. He is a founding member of Ensemble Alcatraz and Alasdair Fraser's Skyedance, and he has performed with early and contemporary music ensembles including Alboka, Anonymous 4, Berkeley Contemporary Chamber Players, Chanticleer, Davka, El Mundo, The Harp Consort, Hesperion XX, Kitka, Los Cenzontles, Musica Pacifica, Philharmonia Baroque Orchestra, and Voices of Music among others. Described by The Herald (Glasgow) as "the most considerate and imaginative of percussionists," he can be heard on over 50 recordings.
Sarah Michael received her B.Mus. in Music History from San Francisco State University and M.A. in Composition from Mills College. She has been playing and studying Middle Eastern music for the last 20 years, primarily with the great composer and accordion virtuoso Elias Lammam. She has performed on the kanun with groups including Aswat, Flowers of the Nile, Elias Lammam ensemble, the Mevlevi Mutrib, El Azifoon, and Ya Layl. Prior to that, Sarah had an energetic career in early music as a viola da gamba player and as a composer.
Based in the Bay Area, Diana Rowan is an award-winning musical artist with a performance career that spans over 30 years. She can be heard on many CDs and soundtracks, including her solo albums Panta Rhei, The Bright Knowledge, and the forthcoming As Above, So Below. Diana holds a PhD in Music Theory (world harp composition techniques), plus an MM in Piano Performance (classical). She presents rave-review workshops, worldwide lectures, and runs Bright Knowledge Academy, an online college for dedicated musicians. Her first book, World Harp Techniques, was released in 2015.
EVENT DETAILS

Time: Doors 7:00PM / Show 7:30PM
Admission: $20-25 sliding scale
Advance tickets:

Join the conversation at the Poppy – volunteer for this event!