February 3rd MAPP @ Red Poppy Art House
February 3 @ 7:30 pm

-

10:00 pm

|

Free
Launched in 2003, the Mission Arts & Performance Project (MAPP) is a homegrown bi-monthly, multidisciplinary, intercultural happening that takes place in the Mission District of San Francisco. On the first Saturday of every even month of the year, the MAPP transforms ordinary spaces, such as private garages, gardens, living rooms, studios, street corners, and small businesses into pop-up performance and exhibition sites for a day/night of intimate-scale artistic and cultural exchange among a kaleidoscope of individuals and communities.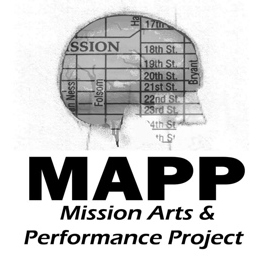 RPAH SCHEDULE:
7:30-8:00 – Samaneh Salehi's The Past Collection (Doors Open + Visual Exhibition)
8:00-8:20 – Ryan Andersen (Acoustic Singer-Songwriter)
8:30-9:00 – Band Together, Creative Liberation Network (Multi-Modal Music Ensemble & Spoken Word)
ft. Zachary Seth Greer, Liyanna Sadowsky, Amani Will, Jahan Khalighi, Neeka Salmasi, Collin Miller
9:10-9:25 – WaterSaw (Haunting Evocative Music)
ft. Nicole Laby, Michael Tornatore, Mark Fassett, Mia Pixley
9:25-9:50 – The Sounds Inside Promo (Modern Dance with Music Score)
ft. WaterSaw band members, Megan Lowe, Shira Yaziv

ABOUT THE ARTISTS:
Samaneh Salehi began her career in Iran after studying graphic design at Tehran Noor Conservatory. Since then, she chose painting as her favorite form of art to express her artistic vision. Samaneh's work has been exhibited in Iran, Dubai, and Malaysia, and continues to be exhibited both in the United States and abroad. She is known for her watercolor and acrylic miniature paintings, inspired by ancient Persian art and combined with contemporary techniques.
Ryan Andersen is a San Francisco-based composer and singer-songwriter creating music that weaves together topics of personal healing, social justice, spiritual purpose, environmental awareness, and the challenges, joys, and responsibilities of being alive at this unique moment in humanity.
Band Together is the musical arm of the Creative Liberation Network. It is a group of musicians, artists, performers, poets, dancers, activists, and community facilitators who provide educational and performative experiences through collaboration. They are building a seven-album, 108-song musical catalog as part of a larger book and tarot deck project. The seven albums will be presented as a single catalog, with each song embodying a different card and each album representing the seven directions, the four elements, the Major Arcana, the 13 Fools, and the 13 Multiverse in The Fools Tarot.
WaterSaw is a group of musicians from the San Francisco Bay Area. Their music is composed specifically for modern dance choreography, film scores, or in conjunction with another art form. Creating layers of sound through loopers, their live music varies in range and can be sparse, rhythmic, ethereal, or driving. The collaboration of music and art facilitates the intended artistic expression. WaterSaw uses their instruments in both conventional and experiential forms, giving way to an array of textures and sounds.
Megan Lowe is a performance artist, dancer, singer, teacher, and administrator. She has performed with Flyaway Productions, Lizz Roman & Dancers, Scott Wells & Dancers, Nancy Karp + Dancers, Epiphany Productions, Dance Brigade, and more. Megan continues to create her own dances, as well as collaborative works with Sonsherée Giles. She teaches for Bandaloop, Flyaway, Joe Goode Performance Group, for contact improvisation gatherings, and for her alma mater UC Berkeley's Theater, Dance & Performance Studies (TDPS).
Shira Yaziv enjoys encouraging people to move in new ways while learning skills and being creative. Her background is in capoeira, circus arts, and dance. Shira is the co-founder and owner of Athletic Playground, a dynamic indoor play-space, inspiring physical play through a wide variety of movement classes.
EVENT DETAILS

Time: Doors 7:30PM / Event 8:00PM
Admission: Free
RSVP to the Facebook event:




Volunteer for this event!