MAPP: Mission Arts & Performance Project
August 5, 2017 @ 7:00 pm

-

10:00 pm

|

Free
Event Navigation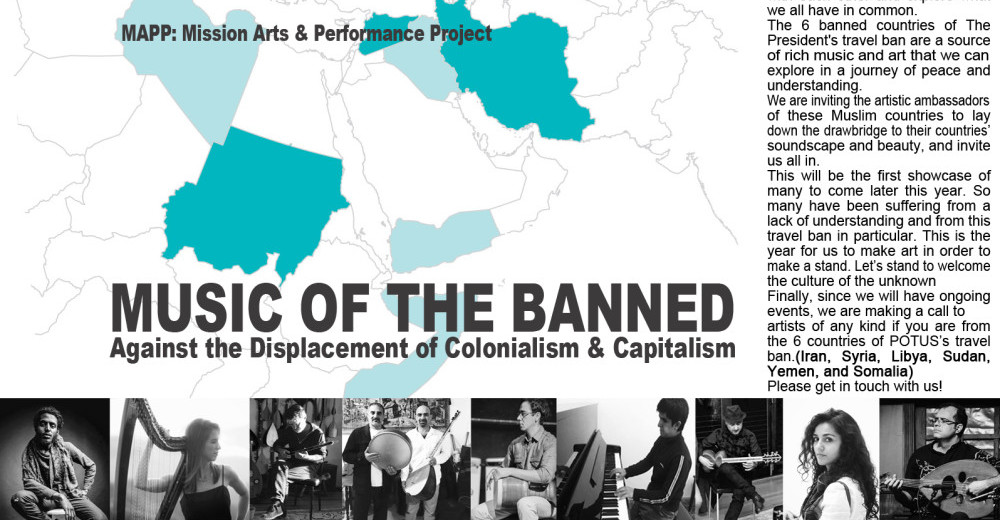 Art can be used to bring awareness. Through art and culture, we can learn to identify with each other and explore what we all have in common. In a journey of peace and understanding, we can explore the six countries on Donald Trump's travel ban, which are a source of rich music and art. We are inviting the artistic ambassadors of these Muslim countries to lay down the drawbridge to their countries' soundscape and beauty, and invite us all in.
In today's America, there is a lack of awareness of the unknown. Put in front of a map, most Americans cannot identify the location of the countries currently listed as America's number-one enemies and the source of terror. This will be the first showcase of many to come later this year. Art will break down the barriers that isolate us. The barriers that either governments or media have worked hard to create.
So many have been suffering from a lack of understanding and from this travel ban in particular. This is the year for us to make art in order to make a stand. Let's stand to welcome the culture of the unknown, make ourselves aware of those that came to this country for a better life just as our ancestors.
Finally, since we will have ongoing events, we are asking artists from Iran, Syria, Libya, Sudan, Yemen, or Somalia to please get in touch with us!

ABOUT MAPP:
Launched in 2003, the Mission Arts & Performance Project (MAPP) is a homegrown bi-monthly, multidisciplinary, intercultural happening that takes place in the Mission District of San Francisco. On the first Saturday of every even month of the year, the MAPP transforms ordinary spaces, such as private garages, gardens, living rooms, studios, street corners, and small businesses into pop-up performance and exhibition sites for a day/night of intimate-scale artistic and cultural exchange among a kaleidoscope of individuals and communities.

RED POPPY SCHEDULE:
7:00-7:15 – Sirvan Manhoubi
Kurdish & Persian traditional music, with tombak, oud & setar
7:20-7:35 – Emad Bonakdar & Nima Hafezieh
Persian fusion, with tar & piano
7:40-8:05 – Raman Osman & Faisal Zedan
Arabic music from Syria, with saz & doumbek
8:05-8:25 – Gari Hegedus & Faisal Zedan
Turkish & Greek music, with oud & doumbek
8:35-9:00 – Dina Zarif & Amelia Romano
Harp & vocal duo performing love songs from around the world
9:05-9:25 – Mazin Jamal
Groovy soul songs inspired by North Africa, Black America & the world
9:30-10:00 – Communal Song & Improvisation

EVENT DETAILS

Time: Event 7:00PM
Admission: Free
Join the conversation at the Poppy – volunteer for this event!