Lisa Mezzacappa + Miya Masaoka (NYC)
February 28, 2013 @ 6:30 pm

-

9:00 pm

|

$10 - $15
Event Navigation
Innovative, eclectic string music and improvisations
Master koto player, multi-disciplinary composer, and virtuosic improviser Miya Masaoka returns to the Bay Area for an intimate concert at the Red Poppy. A pioneer of works for koto and electronics, Masaoka has created music for So Percussion, Bang on a Can, sfSound, Alonzo King's LINES Ballet, and many others. In her pieces she has investigated the sound and movement of insects, as well as the physiological response of plants, the human brain and her own body. Within these varied contexts her performance work investigates the interactive, collaborative aspects of sound, improvisation, nature and society.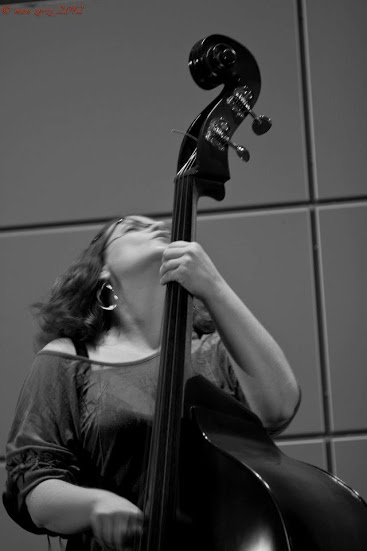 Bay Area bassist Lisa Mezzacappa's new string group is inspired as much by the songs of Bob Wills as the string quartets of Bartok and the free jazz epiphanies of Billy Bang. After so many years of playing with saxophones, trumpets and drum sets, Mezzacappa has recently found herself called back to the string family, where so much acoustic fun can be had with subtle textures, blending timbres and explosive rhythms. The group is composed of some of the Bay Areas's finest improvisers, navigating Mezzacappa's squirley compositions and unusual arrangements.
Set 1:
MIYA MASAOKA – koto, plus guests to be announced
Set 2:
LISA MEZZACAPPA STRING BAND
Murray Campbell – violin
Crystal Pascucci – cello
John Finkbeiner – acoustic guitar and banjo
Lisa Mezzacappa – acoustic bass
Jordan Glenn – percussion
The New York Times calls Miya Masaoka "an explorer of the extremes of her instrument."

"Bassist-composer Lisa Mezzacappa is one of the most imaginative figures on the Bay Area creative jazz scene." – San Jose Mercury News
Miya Masaoka at the Berkeley Art Museum in 2011 on YouTube
Visit MiyaMasaoka.com
Visit LisaMezzacappa.com
$10-$15 admission. Doors at 6:30 pm. Show at 7:00 pm.