FRESH Exchanges: RIPE ft. Sarah Bouars, Kristianne Salcines, Kathleen Hermesdorf
January 23 @ 7:30 pm

-

9:30 pm

|

By donation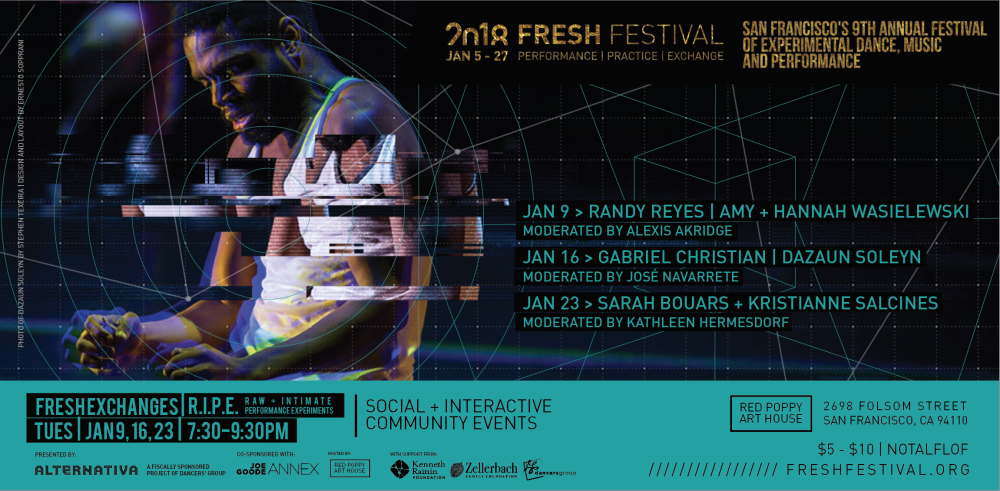 FRESH 2018 Exchanges offer nine interactive, inclusive, and insightful gatherings in the frameworks of RIPE [raw + intimate performance experiments], POTLUCK/Social Practice, and Alternative Conservatory at the Red Poppy Art House between January 9th and 25th. Each Tuesday, RIPE [raw + intimate performance experiments] invites two artists who are working on the edge of their form to share excerpts of current projects, speak about their process, and hold a moderated group discussion. Facilitated by Kathleen Hermesdorf, the January 23rd Exchange features artists Sarah Bouars and Kristianne Salcines.

Maybe​ ​in​ ​the​ ​morning​ ​I​ ​say​ ​goodnight​ ​to​ ​you by Sarah Bouars and Kristianne Salcines
We have developed a practice and a ritual that helps sustain our existence under our systemic pressures from Berlin to LA. In this work, we will experience a way of existing that will offer you alternative ways of finding "the antidote" or "the answers" to the systemic struggles we find ourselves into. This work is filled with intelligence in self-love, fiercely unapologetic existence, and clever coping mechanisms. How do we celebrate what is here with us now? How do continue to feel when all we want to do is escape and be distant? How do we feed ourselves and each other of love that is there all along. This work will nourish you, literally. Food will be the string that ties us together, when what we make on stage becomes food for your minds, body, and soul.

ABOUT FRESH FESTIVAL 2018:
FRESH Festival 2018 is San Francisco's 9th annual festival of experimental dance, music, and performance from January 5-27, 2018. The festival offers four weekends of risk-taking main-stage Performances, three weeks + weekends of immersive studio Practices, and 14 social and interactive Exchanges, hosted by Joe Goode Annex, Red Poppy Art House and F8 Nightclub in San Francisco, and Finnish Hall in Berkeley. FRESH 2018 is inspired by and transmitted through the curiosity of 50+ cutting-edge artists from the Bay Area and beyond.

EVENT DETAILS

Time: Doors 7:00PM / Event 7:30PM
Admission: By donation ($5-10) – No one turned away for lack of funds