FRESH Exchanges: RIPE ft. Amy + Hannah Wasielewski, Randy Reyes, Alexis Akridge
January 9 @ 7:30 pm

-

9:30 pm

|

By donation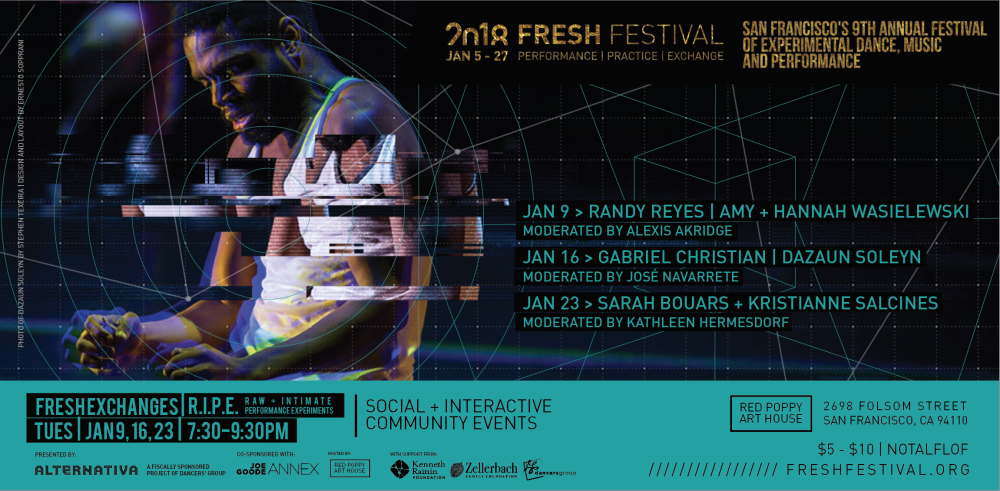 FRESH 2018 Exchanges offer nine interactive, inclusive, and insightful gatherings in the frameworks of RIPE [raw + intimate performance experiments], POTLUCK/Social Practice, and Alternative Conservatory at the Red Poppy Art House between January 9th and 25th. Each Tuesday, RIPE [raw + intimate performance experiments] invites two artists who are working on the edge of their form to share excerpts of current projects, speak about their process, and hold a moderated group discussion. Facilitated by Alexis Akridge, the January 9th Exchange features artists Amy + Hannah Wasielewski and Randy Reyes.

A healing by Amy + Hannah Wasielewski
We explore our connection to space, color, and energy patterns and convey what we see. We entrain, open up to synchronicity, and observe the room from different resonances, new angles. Drop in. Clear out. This is an experiment with intuition and intention.
retrograde a thing or shakeshakeshake by Randy Reyes
we enter the space not choosing what we do. we take the time to listen and we move between the silence and the heartbeat. i don't know doesn't mean i don't know. it means i need more time to think through the possibilities. una danza o un no-se-que. how many dimensions are there in ur reality?

ABOUT THE ARTISTS:
Amy Wasielewski moved to San Francisco in January 2016. She began creating performances with her sister, Hannah, and has been deeply influenced by the history of experimental dance and performance in the city. In the summer of 2017, she completed her bachelor's degree at the California Institute of Integral Studies, where she combined her academic work with performance. She also studied energy healing at the Academy of Intuition Medicine®. Energetic, spiritual, academic, and political perspectives continue to shape her dance practice.
Hannah Wasielewski has performed her own creations as a solo artist and in collaborations in the Bay Area, Arezzo (Italy), Ponderosa, and Earthdance. Her collaborators include Sara Shelton Mann, Sara Kraft/KraftyWorks, Helen Walkley, David Dorfman, Seán Curran, Leslie Seiters, and currently Sam Stone/other dance and Kinetech Arts. Hannah teaches contact improvisation at Leviathan Studio in Lasqueti Island, B.C., and is currently studying biodynamic craniosacral therapy with Body Intelligence.

ABOUT FRESH FESTIVAL 2018:
FRESH Festival 2018 is San Francisco's 9th annual festival of experimental dance, music, and performance from January 5-27, 2018. The festival offers four weekends of risk-taking main-stage Performances, three weeks + weekends of immersive studio Practices, and 14 social and interactive Exchanges, hosted by Joe Goode Annex, Red Poppy Art House and F8 Nightclub in San Francisco, and Finnish Hall in Berkeley. FRESH 2018 is inspired by and transmitted through the curiosity of 50+ cutting-edge artists from the Bay Area and beyond.

EVENT DETAILS

Time: Doors 7:00PM / Event 7:30PM
Admission: By donation ($5-10) – No one turned away for lack of funds