FRESH Exchanges: Social Practice/Potluck ft. José Navarrete, Amara Tabor-Smith & Cat Brooks
January 11, 2017 @ 7:30 pm

-

9:00 pm

|

By Donation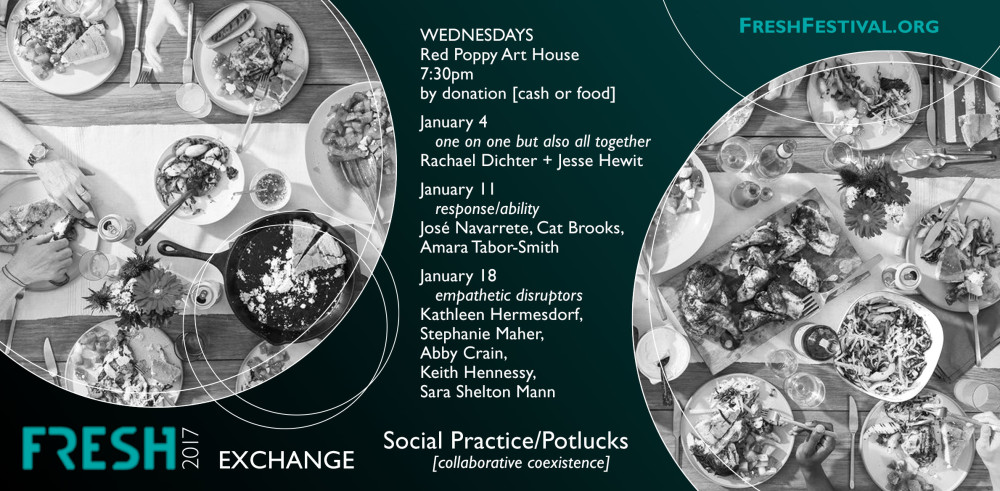 In collaboration with FRESH Festival 2017, the Red Poppy Art House is pleased to present FRESH Exchanges, free and by-donation events made to cultivate, cross-pollinate, invigorate, create access, and generate outreach within and outwith the dance, music, and performance communities. These interactive exchanges include Social Practice/Potlucks on Wednesdays, January 4, 11, 18. FRESH Social Practice/Potlucks are collaborative meals and interactivities co-hosted by artists notorious for generating situations of connectivity, improvisation, inclusivity, and direct action.
On January 11th, artists José Navarrete, Amara Tabor-Smith, and Cat Brooks co-host an evening of food for the heart, mind, and soul, looking at empathetic and disruptive ability and agency in art and activism – response/ability.

ABOUT THE ARTISTS:
José Navarrete is a native of Mexico City where he was first exposed to theater and dance, choreographing and performing in parks, hospitals, and children's parties as a clown and dancer. He studied dance at the National Institute of Fine Arts in Mexico and has a BA in Anthropology from UC Berkeley and MFA in Dance from Mills College. Currently, he leads the Guerilla Performance Group and curates and produces the Live Arts in Resistance (LAIR) initiative at Eastside Arts Alliance, which provides residencies and performing opportunities for artists of color in East Oakland. José has been participating in FRESH since 2015 and acting as a curator for 2017 + 2018.
Amara Tabor-Smith is an Oakland-based performer, poet, and dance maker who describes her work as Afro-Futurist Conjure Art. Her dance making practice utilizes Yoruba spiritual ritual to address issues of race, gender, social and environmental justice, community, identity, and belonging.
Cat Brooks grew up in Las Vegas dreaming of an acting career even as she tagged along with her 'radical feminist' mother from one protest to another. The Oakland resident has emerged as one of the most prominent organizers in the Black Lives Matter movement, and Brooks has played a key role staging protests that halted a San Francisco-bound BART train full of Black Friday shoppers, blockaded Oakland's police headquarters, and helped end Mayor Libby Schaaf's short-lived effort to crack down on nighttime street marches. She runs Cat Brooks Consulting and works with the Anti-Police Terror Project.

ABOUT FRESH FESTIVAL:
FRESH Festival 2017, the 8th annual Festival of Experimental Dance + Performance in San Francisco, celebrates and showcases the abundance of embodied art, action, innovation, and inclusion in the Bay Area from January 2-22, with three immersive weeks with intensive practices, cutting-edge performances, and interactive exchanges. Produced by ALTERNATIVA, FRESH 2017 is curated by Kathleen Hermesdorf, Abby Crain, and José Navarrete, and hosted by Joe Goode Annex, Red Poppy Art House, F8 Nightclub in San Francisco, and CTRL+SHFT in Oakland.
To view the full schedule of FRESH Exchanges at the Red Poppy Art House, click here.
EVENT DETAILS

Time: Doors 7:00PM / Event 7:30PM
Admission: Free; by donation