FRESH Exchanges: Experimental Structures ft. Amelia Uzategui Bonilla & Hana Erdman
January 17, 2017 @ 7:30 pm

-

9:30 pm

|

By Donation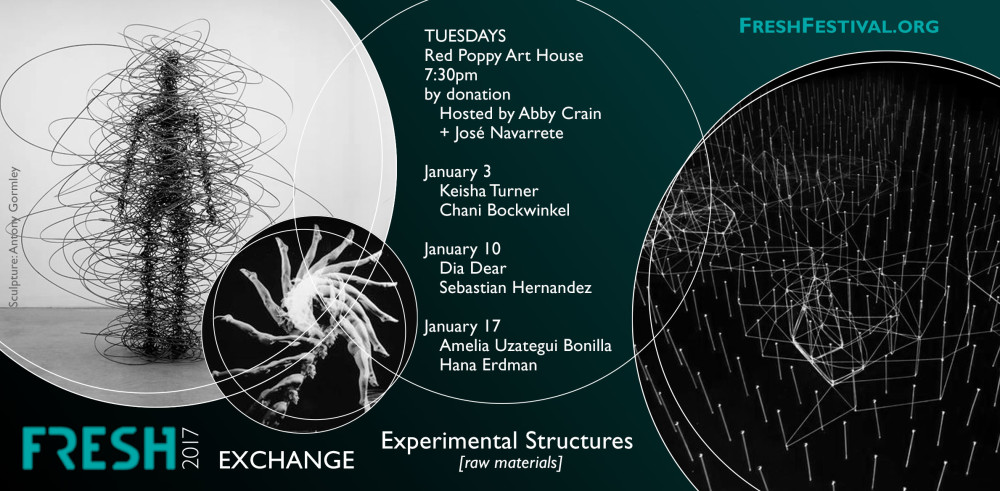 In collaboration with FRESH Festival 2017, the Red Poppy Art House is pleased to present FRESH Exchanges, free and by-donation events made to cultivate, cross-pollinate, invigorate, create access, and generate outreach within and outwith the dance, music, and performance communities. These interactive exchanges include Experimental Structures on Tuesdays, January 3, 10, 17. Hosted by Abby Crain and José Navarrete, Experimental Structures invite artists working on the edge of their form to speak about their work, share excerpts of current projects, and lead group discussions.
On January 17th, artists Amelia Uzategui Bonilla and Hana Erdman share and discuss their works. Bonilla's 15-minute performance piece from The Myth of the Manta is a multi-generational, bilingual expressive arts performance and workshop experience developed with communities of children and adults dancing with handwoven mantas, a cultural symbol of feminine, indigenous wisdom. Erdman's 365 routines looks at the emotional production of choreography through notions of companion practice and technologies of friendship and collaboration. In this piece, two artists take turns making eight counts of movement on a daily basis in order to arrive at a one-year-long choreography.

ABOUT THE ARTISTS:
Amelia Uzategui Bonilla (Peru/USA) dedicates herself to arts education, performance, and social justice. In 2013, Amelia co-founded Rio Danza Comunitaria, a cultural organization dedicated to promoting human integration and environmental consciousness through the arts, based in Lima, Peru. She is a graduate from The Juilliard School and the Tamalpa Institute and resides in Oakland, CA.
Hana Lee Erdman is a dance artist who works with choreography and curatorial practices, approaching performance from both embodied and relational sensibilities. Her work generates a space of public intimacy and sensitivity, proposing the practice of being together as a creative one. She wants to see what and how we can do together in order to create potential for transformative experiences through subtle and subversive shifts of power and exchange. Hana has a bachelor's degree in Art History from UCLA and a master's degree from the University of the Arts Berlin (HZT).
Abby Crain is an Oakland-based artist who makes dances and other structures for performance. She also works in the field as a teacher, performer, writer, and curator. Her curatorial projects include the NO THANK YOU SHOW, which asked artists to represent or stage work that has been rejected by granting organizations, theaters, collaborators, or the artist herself; the NON MAJOR SHOW, which asked artists to show work not in their primary medium; as well as being on the curatorial panel of FRESH Festival.
José Navarrete is a native of Mexico City where he was first exposed to theater and dance, choreographing and performing in parks, hospitals, and children's parties as a clown and dancer. He studied dance at the National Institute of Fine Arts in Mexico and has a BA in Anthropology from UC Berkeley and MFA in Dance from Mills College. Currently, he leads the Guerilla Performance Group and curates and produces the Live Arts in Resistance (LAIR) initiative at Eastside Arts Alliance, which provides residencies and performing opportunities for artists of color in East Oakland. José has been participating in FRESH since 2015 and acting as a curator for 2017 + 2018.

ABOUT FRESH FESTIVAL:
FRESH Festival 2017, the 8th annual Festival of Experimental Dance + Performance in San Francisco, celebrates and showcases the abundance of embodied art, action, innovation, and inclusion in the Bay Area from January 2-22, with three immersive weeks with intensive practices, cutting-edge performances, and interactive exchanges. Produced by ALTERNATIVA, FRESH 2017 is curated by Kathleen Hermesdorf, Abby Crain, and José Navarrete, and hosted by Joe Goode Annex, Red Poppy Art House, F8 Nightclub in San Francisco, and CTRL+SHFT in Oakland.
To view the full schedule of FRESH Exchanges at the Red Poppy Art House, click here.
EVENT DETAILS

Time: Doors 7:00PM / Event 7:30PM
Admission: Free; by donation