FRESH Exchanges: Alternative Conservatory ft. Dance Studies Working Group
January 19, 2017 @ 7:30 pm

-

9:30 pm

|

By Donation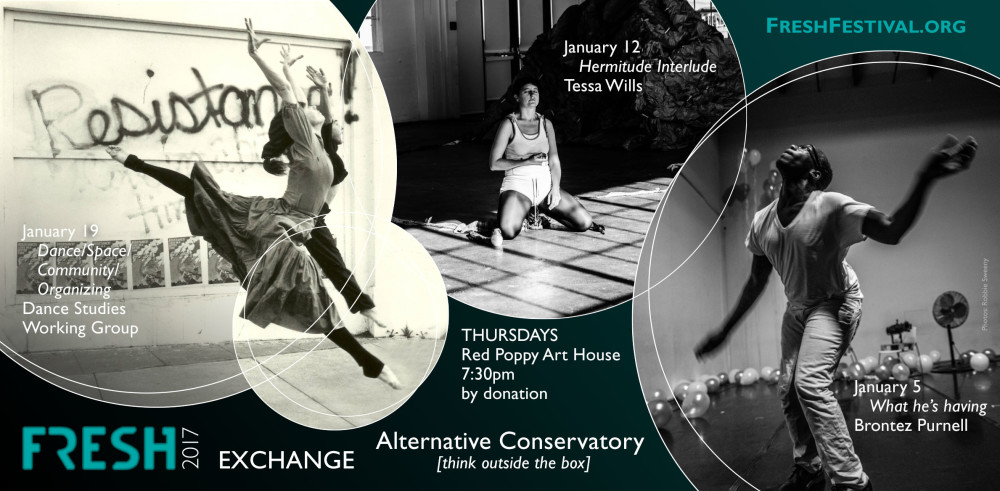 In collaboration with FRESH Festival 2017, the Red Poppy Art House is pleased to present FRESH Exchanges, free and by-donation events made to cultivate, cross-pollinate, invigorate, create access, and generate outreach within and outwith the dance, music, and performance communities. These interactive exchanges include Alternative Conservatory on Thursdays, January 5, 12, 19. Hosted by FRESH artists notorious for disarming paradigms and thinking outside the box, Alternative Conservatory is a time to unwind, connect, absorb, consider, listen, and discuss. On January 19th, the Dance Studies Working Group presents Dance/Space/Community Organizing.
The Dance Studies Working Group brings together organizers of Bay Area performance spaces who have foregrounded community building and activism in and alongside presenting dance. Embedded within FRESH Festival, the discussion is a means to highlight and engage with ongoing organizing efforts to bridge dance spaces and activism in the Bay.

ABOUT THE ARTISTS:
The UC Berkeley Dance Studies Working Group (DSWG) was founded in 2008 by a group of graduate students in the Theater, Dance, and Performance Studies Department. DSWG exists as a site of inquiry, exploration, and discussion for students, faculty, scholars, practitioners, and community members engaged with dance and movement-based practices. With a focus on process over product, DSWG serves as an incubator to engage with new research and alternate pathways for knowledge production and dissemination, and further support dance practices and research that engage with a wide array of social, political, and cultural issues.

ABOUT FRESH FESTIVAL:
FRESH Festival 2017, the 8th annual Festival of Experimental Dance + Performance in San Francisco, celebrates and showcases the abundance of embodied art, action, innovation, and inclusion in the Bay Area from January 2-22, with three immersive weeks with intensive practices, cutting-edge performances, and interactive exchanges. Produced by ALTERNATIVA, FRESH 2017 is curated by Kathleen Hermesdorf, Abby Crain, and José Navarrete, and hosted by Joe Goode Annex, Red Poppy Art House, F8 Nightclub in San Francisco, and CTRL+SHFT in Oakland.
To view the full schedule of FRESH Exchanges at the Red Poppy Art House, click here.
EVENT DETAILS

Time: Doors 7:00PM / Event 7:30PM
Admission: Free; by donation