FRESH Exchanges: Alternative Conservatory ft. Tessa Wills
January 12, 2017 @ 7:30 pm

-

9:30 pm

|

By Donation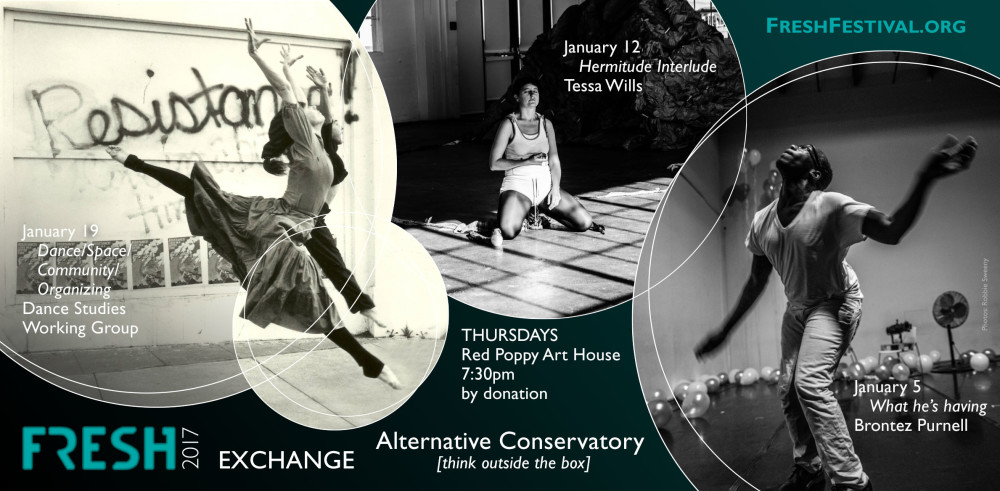 In collaboration with FRESH Festival 2017, the Red Poppy Art House is pleased to present FRESH Exchanges, free and by-donation events made to cultivate, cross-pollinate, invigorate, create access, and generate outreach within and outwith the dance, music, and performance communities. These interactive exchanges include Alternative Conservatory on Thursdays, January 5, 12, 19. Hosted by FRESH artists notorious for disarming paradigms and thinking outside the box, Alternative Conservatory is a time to unwind, connect, absorb, consider, listen, and discuss. On January 12th, Tessa Wills presents Hermitude Interlude.
Tessa Wills hosts a reformulation retreat with tactics of Hermitude, an interlude to absorb, consider, recover, and integrate information mid-festival. Solo processing in a group, she discusses some of the major themes as they are danced, felt, and lived out throughout FRESH 2017. She reckons with the underlying question of how to positively utilize the impact on our lives of the new administration, particularly as it relates to empathy through aesthetics. This is a social-thinking, performative-resting, non-demanding-kinda hybrid space.

ABOUT THE ARTIST:
Tessa Wills is a live artist and thinker residing in the shadows, a subtle complicated and fierce creator who loves to be snug. Wills is halfway through her lifelong relationship with performance, and she makes unusual spaces for participation and reflection on intimate relationships through her experimental practice. Her work aims to reconnect and affirm humanity in vital ways, given the socio-political economic contexts in which we are attempting to operate. Wills is the artistic director of THIS IS WHAT I WANT festival, the Bay Area annual performance festival about desire, and she facilitates a community around The Hermit Project.

ABOUT FRESH FESTIVAL:
FRESH Festival 2017, the 8th annual Festival of Experimental Dance + Performance in San Francisco, celebrates and showcases the abundance of embodied art, action, innovation, and inclusion in the Bay Area from January 2-22, with three immersive weeks with intensive practices, cutting-edge performances, and interactive exchanges. Produced by ALTERNATIVA, FRESH 2017 is curated by Kathleen Hermesdorf, Abby Crain, and José Navarrete, and hosted by Joe Goode Annex, Red Poppy Art House, F8 Nightclub in San Francisco, and CTRL+SHFT in Oakland.
To view the full schedule of FRESH Exchanges at the Red Poppy Art House, click here.
EVENT DETAILS

Time: Doors 7:00PM / Event 7:30PM
Admission: Free; by donation