LEADERSHIP TEAM
Todd Thomas Brown
Founder and Leadership Team
Todd Thomas Brown is a multidisciplinary artist and cultural connector, immersed equally in his artistic practice as with his organizational work in developing hybrid models of merging small-scale arts presenting with social networking and community building. He is founder of San Francisco's Red Poppy Art House and the Mission Arts & Performance Project/MAPP, a multidisciplinary neighborhood arts festival that has produced over 75 festivals since its inception.
With a painting practice in mixed-media, Todd has participated in artist residencies with San Francisco's de Young Museum and Residencia el Otro Lado, Chiapas, MX, and was one of three artists selected to initiate the de Young Museum's year-long Artist Fellowship Program in 2011, funded by the James Irvine Foundation. As a performing artist, Todd has been awarded grants in disciplines of music and theater from the San Francisco Foundation, Zellerbach Family Foundation, and the San Francisco Arts Commission. Todd was recently named to the YBCA 100, an annual compilation of the creative minds, makers, and pioneers that are asking the questions and making the provocations that are propelling new culture-making across the nation. Todd is presently the Project Director and Music Curator for Flying Under the Radar Biennial Festival of the Arts, an interdisciplinary lab/festival that facilitates collaborative work between artists of the San Francisco Bay Area and Rio de Janeiro, Brazil.
---
Caleb Duarte Pinon migrated from the northern states of Mexico into the farming communities of Central California. He began to paint at an early age and began his studies at Fresno City College and continued at the San Francisco Art Institute and at the Graduate Sculpture department of the School of the Art Institute of Chicago. His work has been reviewed by the Los Angeles Times, Art Ltd Magazine, San Francisco Chronicle, SPARK, and others. He has exhibited his work at the Yerba Buena Center for the Arts, SF, Red Dot Art fair in New York, The Sullivan Galleries in Chicago, Gallery 727 Los Angeles, The California Museum of Art in Oakland, the Fresno Art Museum, and others. He is represented by Jack Fisher Gallery in SF.
Duarte has created public works and community performances at the World Social Forum in Mumbai India, Santiago de Cuba, Cuba, El Pital, Honduras, Mexico City, and throughout out the US. Duarte is co-founder of an experimental artist residency and events space in Chiapas, Mexico that invites participants of diverse practices to live and create with in a period of time. Residents are from PHDs to jugglers, contemporary artist, activist, educators, rural farmers, and community members of autonomous communities of rural Chiapas.
He is the curator of the ZAPANTERA NEGRA project that brought artist and once Minister of Culture for the Black Panther Party, Emory Douglas, and artist Rigo 23 to work with both Zapatista artist, a rebel autonomous indigenous community that came to the world spot light in 1994, and with local and international artist in the rural areas of Chiapas, Mexico. This project united Zapatistas with Black Panther aesthetics to investigate the use of the body and visual communication in both distinct political and artistic movements. From February-August 2015, Caleb was Artistic Director in Rotation for the Red Poppy Art House in San Francisco, California.
---
Marimar Suarez Penalva
Leadership Team
Marimar Suarez – (CIDE, Mexico, Political Science; Goldsmiths College, London, Contemporary Art Theory; CCA, San Francisco, Design Strategy MBA Candidate). Marimar is a curator in the broader sense of the word: her passion is enabling projects and connecting ideas. She believes that magic happens when she works with people who can do something she can't. She was born and raised in Mexico City and has lived in Paris, London and San Francisco. She is an experienced arts management executive, project developer, fundraiser, and cultural/media/political professional, currently training as design strategist. Her experience includes being the Consul for Cultural Affairs of Mexico in San Francisco and the Spokeswoman of the First Lady of Mexico, Margarita Zavala. Marimar is an actress at heart and her acting passion comes from her strong ability to understand and relate to people deeply while keeping a higher level perspective on the big picture.
---
Michael Warr's literary awards include a Gwendolyn Brooks Significant Illinois Poets Award, a NEA Creative Writing Fellowship for Poetry, and The Beat Museum Poet of the Month. He is a co-editor of Power Lines: A Decade of Poetry From Chicago's Guild Complex and his first book of poems, We Are All The Black Boy, was honored by the Illinois Library Association.
His poems are widely anthologized, including such collections as The Spoken Word Revolution: Slam, Hip-hop & the Poetry of a New Generation, Unsettling America: Race and Ethnicity in Contemporary American Poetry, Voices From the Nuyorican Poets Cafe, Scars – Poetry In the Face of Violence, Changer l'Amerique, Anthologie de la Poesie, Protestataire des USA. His digital photo/poetry performance, Poetic Aperture – An African American Interprets Africa, based on his poetry and original images created as a photojournalist in Ethiopia and Mali, debuted at Chicago's Field Museum.
Since returning to his native San Francisco in 2007 Michael has performed spoken word at venues ranging from the Red Poppy Art House to the De Young Museum with Nefasha Ayer. Most recently he has collaborated with instrumentalist Keenan Webster on the performance "From Baton Rouge to Bamako," featuring the poetic-storytelling of his travels within the African-American and African experience, with Webster's performance on the kora, m'bira, and balafon.
---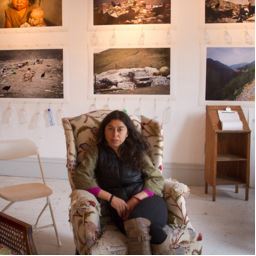 Indira Urrutia
Leadership Team
Born in Chile, Indira Urrutia immigrated to New Haven, Connecticut in 1986 with her entire family. She finished high school to continue her higher education at Southern Connecticut State University, where she graduated in 1994 with a Bachelor of Science in Studio Art with a specialty in Photography. Since then, Indira has followed her passion for photography with explorations into other formats such as mixed media, installation art and experimental video. Teaching allows her to transmit the importance of free artistic expression in a safe environment that guides the students to experiment with their own creativity.
In 2012, Indira came back to the San Francisco Bay Area after a four-year bicycle journey that brought her to cross thirteen countries of the American continent. She is co-founder of the project 2greenprints.org, a Leadership Team member at the Red Poppy Art House, and artist teacher at Marsh Youth Theater. Indira also exhibits her artistic work throughout the Bay Area.
---
Meklit's music is imbued with poetry and multiplicity, from hybridized sounds of Tizita (haunting and nostalgic music) drawing from her Ethiopian heritage, to the annals of jazz, folk songs, hip-hop and art rock. Drawing from the concept of the "inbetween", Meklit's music transports us to the post-national space of Africa and the Americas, inspiring us to bridge the frontiers between language, tribes and disciplines. Her songs celebrate the newness of life and the hyphens that bring us together.
Meklit has released four studio albums, tours regularly and is currently signed to Six Degrees Records. She is a TED Senior Fellow and has served as an artist-in-residence at NYU, where she curated a performing arts series at the Lincoln Center Atrium. Meklit has completed musical commissions for the San Francisco Arts Commission, the Fund for Artists, Brava For Women in the Arts, and the De Young Museum. She is currently working on a body of music steeped in Ethio-Jazz thanks to a grant from the prestigious MAP Fund. She is the founder of the Arba Minch Collective, one third of the Ethiopian Hip-Hop Space Opera trio CopperWire, and former Co-Director of the Red Poppy Art House. In 2011, Meklit co-founded the Nile Project with Egyptian Ethnomusicologist Mina Girgis. She holds a BA in Political Science from Yale University.
---
Mi'Jan Celie Tho-Biaz
Leadership Team
Mi'Jan Celie Tho-Biaz, Ed.D., is a cultural worker, visiting Research Scholar at Columbia University, and an Aspen Institute – Franklin Project Ambassador. Mi'Jan has extensive practice in the fields of arts education and creative leadership, as well as 15 years of experience in multicultural education, research and curriculum design. As an independent community radio producer and host, she works in artistic and native communities using the power of narrative as a transformative tool for social change. As a thriving journey collector and seasonal nomad, Mi'Jan joins the Poppy's Leadership Team to provide a leadership lens out of the Bay Area and into communities and organizations engaged with similar explorations on the national level.
---
Liliana Herrera
Leadership Team
Liliana Herrera considers herself a Cultural Mixologist, infusing her skills as a singer, voice-over artist, linguist and interpreter to build bridges between with various communities in the Bay Area and beyond. With over a decade of experience as a interpreter, translator and facilitator, what guides Liliana's language access development efforts is creating multilingual spaces where community building and culture intersect, seamlessly and equitably. As an artist, Liliana's musical repertoire reflects a multicultural tapestry embedded in folkloric tradition as well as a contemporary hybrid of new song. Liliana has performed with various companies, including renowned theatre company, El Teatro Campesino, and is currently in production for her debut EP, Late Night Taco Stand Music, with musical direction by multi Grammy-nominated producer, Greg Landau.