Karina Denike has made a career lending her voice to a wide range of different projects. Beginning in the early 1990s, with the influential ska group Dance Hall Crashers, the British-born daughter of Czech dissident artists has contributed her vocal, arranging, and composition skills to more than 30 records, spanning pop, jazz, and punk.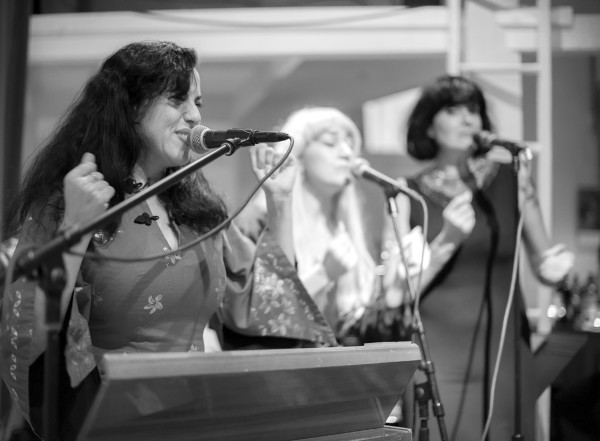 Karina Denike at the Red Poppy on October 30th (Photo by Esther Kim, 2016)
In 2015, after a successful Kickstarter campaign, Karina recorded Under Glass, her first full-length album as a solo artist. Thanks in part to contributions by a host of Bay Area musicians, Under Glass manages to bring Karina's distinct compositional voice to center stage by using a mix of Eastern European lullabies, Motown beats, girl group harmonies, and chord organ. Her innovative sound, which has been described as "strikingly original and warmly nostalgic," conjures feelings of both film noir and classic '60s soul.
I was first exposed to Denike as a guest vocalist on various punk records from the early 2000s. (Besides singing with Bay Area groups such as the Cottontails and Mr. Lonesome & the Bluebells, the lifelong Oakland resident is a touring musician with punk legends NOFX.) Her vocal performances were quite memorable and intriguing, so when I heard that she and her band would headline a Sunday evening at a tiny venue in San Francisco, I had to be there.
The Red Poppy Art House turned out to be a wonderfully intimate performance space nestled deep within the Mission District. I grabbed a drink at the counter, listened to the whisper of audience chatter, and checked out the original art on the walls of this dimly lit one-room performance space, which felt less like a traditional concert venue and more like a friend's cozy living room. I found a seat with about 40 others shortly before Karina, resplendent in a bright green dress, signalled the beginning of the show. But once the night began–with "Park It," from Under Glass–we were suddenly in an old-timey cabaret, and Karina moved confidently around the small space, making it feel like the sprawling stage of an enormous auditorium.
Her energy took over the room, as did the rich sound of bass clarinet, mellow and surf-style baritone guitar, lively piano, pulsating drums, and the complementary tone of the chord organ, while the spot-on harmonies of Meryl Press and Christie Winn, Karina's two backup singers, sublimely supported her vocals. The band, under two spotlights, rolled along right into "Musee Mecanique," enthralling us with tight pauses that made the entire room ring with silence. Karina described the song as "a love ditty with a nod to my dear San Francisco and her stunning shores." Bass clarinetist Cory Wright stood out on this one, vibrantly boosting the sound with a booming, earthy tone that we could feel in our seats.
Cory Wright on bass clarinet (Photo by Esther Kim, 2016)
The band had the casual, convivial energy of a group that's spent plenty of time together–Karina joked around with pianist and fellow Cottontail Michael McIntosh between tunes–and they kept things interesting with lots of variety. One moment we were drenched in Motown soul on groovy tunes like "Park It" and "Persephone," and the next, the dreamy ditty "Anchors Away" brought us to the calm, lonely seaside. The last-minute cover of the Beach Boys' "Longest Sea," included to appease an audience member's request, sounded perfectly rehearsed. And the a capella lullaby "Cantilever Bridge," which showcased Karina, Meryl, and Christie's surprisingly full-bodied three-part harmonies, was simply mesmerizing.
In a room like the Red Poppy, there's almost no separation between the artist and the audience. This was my first show here, and I found myself appreciating the togetherness in such close quarters. Hearing the off-mic bantering and the between-song chatter among the band made me feel as if I was onstage with them, and I felt their relaxed, friendly vibe as they soared through a terrifically satisfying set that was over far too soon.
— Charley Arents, PR